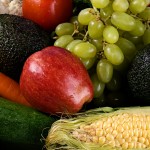 Does the price of vegetables and fruit discourage you from buying these healthy foods? The goal is for each Canadian 4 years and older to eat at least 5 servings of vegetables and fruit each day. The vitamins, minerals, fibre and plant chemicals in these foods promote health and prevent disease. Some vegetables and fruit are more costly than others, but many can be purchased for about $0.30 per serving. This means your 5-a-day will cost about $1.50 per person per day or less.
One serving of vegetables and fruit is equal to: one medium raw vegetable or fruit (the size of a tennis ball); 1/ 2 cup (125 mL) of 100% juice; 1/ 2 cup (125 mL) of fresh, frozen, canned or cooked vegetables or fruit; 1/ 4 cup (50 mL) of dried fruit; or 1 cup (250 mL) of salad. The list below shows the cost of vegetables and fruit that are likely available at your local grocery store. This data was collected by the Public Health Nutritionists of Saskatchewan in 2001. The prices are averaged from stores all over the province. Cost, quality and selection may vary depending on where you live and the time of year.
COST OF FRUIT:
– 1 medium apple $0.34

– 1 medium banana $0.16

– 1 medium orange $0.38

– 1/ 4 cup (50 mL) raisins $0.21

– 1/ 2 cup (125 mL) canned fruit cocktail in juice $0.59

– 1/ 2 cup (125 mL) canned apple juice with vitamin C $0.19

– 1/ 2 cup (125 mL) frozen orange juice, prepared from concentrate $0.12
COST OF VEGETABLES:
– 1 medium potato $0.22

– 1 medium carrot $0.15

– 1/ 2 cup (125 mL) canned tomatoes $0.28

– 1/ 2 cup (125 mL) tomato juice $0.19

– 1/ 2 cup (125 mL) frozen mixed vegetables $0.27

– 1/ 2 cup (125 mL) canned kernel corn $0.41

– 1 cup (250 mL) romaine lettuce $0.22
Fresh, frozen, canned and dried vegetables and fruit are similar in nutritional value. One hundred percent juice lacks the fibre of whole vegetables and fruit but can still be a healthy choice. Choose whatever form is the cheapest and most available. Enjoy the greatest variety your budget can afford. Add extra vegetables to your sandwich. Throw some frozen vegetables into a soup or casserole. Choose 100% fruit or vegetable juice as a snack. Take dried fruit in your lunch or add it to hot cereal.
With a little planning, getting your 5-a-day can be quick, easy and low cost. For the best value, buy vegetables and fruit in season when the quality is highest, selection is best and the cost is lower. Eat as much as you can fresh and then freeze, can or dry your own vegetables and fruit so you can enjoy them year-round. For example, freeze peeled bananas, shredded carrot/zucchini, or berries for use in pancakes, muffins and other dishes. Blanch and freeze garden vegetables. Freeze pureed vegetables for soups or fruit for sauces. Try canning your own fruit or making salsa.
Healthy food is not as costly you think. Reach for your 5-a-day today!
WRITTEN BY THE PUBLIC HEALTH NUTRITIONISTS OF SASKATCHEWAN.
Originator: Sheri Taylor
References:
2001. Food Costing data. Public Health Nutritionists of Saskatchewan.