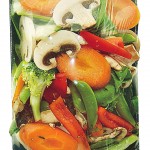 Beginning in September, the U.S. Department of Agriculture's Food Safety and Inspection Service (FSIS) will partner with the International Food Information Council (IFIC), the Food and Drug Administration, the Partnership for Food Safety Education, and organizations representing the frozen food and home appliance industries to raise awareness about the need to follow package instructions in order to fully cook pre-prepared foods and prevent foodborne illness. 
"Frozen or refrigerated convenience foods are popular items in many Americans' homes, but there are a lot of misconceptions when it comes to cooking these foods," said FSIS Administrator Al Almanza. "Some of them can be microwaved, but others can't. The 'Cook It Safe' campaign is designed to heighten awareness of this problem and correct misconceptions, putting an end to needless, preventable illnesses."
Read the rest of the press release at the USA Department of Agriculture.