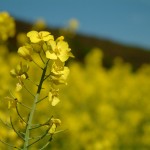 By Simone Demers Collins, PHEc
I'm travelling throughout Alberta this week, with a topic, 'Caps off to Canola!' and I'm asking producers how many would consider giving a case of canola oil to people on their gift-giving list. To date, I'm sad to say that I've had no takers.  A lot of very strange looks, some sneers, and the occasional snide remark – how do I wrap a dozen bottles of canola oil?
Yet, when I was visiting an oil processing plant in Italy, farmer Giovanni, who was getting his olive harvest crushed, was proud to say that every year he provided this gift of oil to his family – both immediate and extended. Members of the Japanese crushing industry tell us that they give canola oil as gifts to their family and friends. And when I travelled to South Korea in the spring, canola oil was being brought into the country, specifically for gift-giving season.
While a $5.69 bottle of canola oil might not meet Canadian's criteria for a 'great' gift, I believe that the concept and what it says about our definition of 'gift' bears examining. Many of us, work too many hours, without much pride in what we are doing, to earn the required money, to spend on 'things' that we often don't need, at prices that hold us hostage to our credit cards for a good part of the next year.
And my challenge to these farmers, and to you, is to think about what you do, what you have and how that could be shared with others – whether it's a skill like styling hair, or supporting the local coffee shop by sharing your time with a neighbour to enjoy each other and a cup of tea.  Think about the goods and services provided by Canadians…
Buying local does not just apply to what can be purchased at the local market garden during the summer.  It's about being proud of what we produce in Canada, and being aware of 'all' that is local – the food, the cosmetics, the clothes, the furniture, to name but a few. It's about the businesses who hire the trades personnel who bake our bread, create our restaurant meals, do oil lubes – And it's about those who own businesses – the caterer, the fitness trainer, the life coach and the massage therapist to name but a few.
So this year, make the proverbial gift list.  Set a budget. Then reflect on what you do, and how that could be packaged for giving. Then explore your friend's skills, your neighbourhood, and see how you could support what others in your community are creating or doing.  And set out to giving your own brand of canola oil – a gift that is local; healthy – would be a great start to possible new year's resolutions;  versatile – great for storage space, and affordable – good on the budget!
*****************
Simone Demers Collins is a professional home economist, living in Edmonton Alberta. She has her own consulting business which focuses on media, marketing, public relations & project management. Follow her daily at @learncanola.