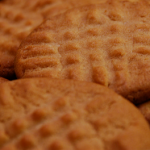 By Nancy Schneider, PHEc, M.Sc.
Baking with children can be fun and provide many teachable moments.  This recipe uses peanut butter, so please be aware of any potential allergies before making these cookies.
Cookies
For this recipe you will need: 1 cup peanut butter, 1 cup sugar, 1 egg, 1 teaspoon vanilla. (Yes this is really all you need there is no flour in these cookies)
Mix the sugar and peanut butter together, then add in the egg and vanilla.  Make sure everything is well mixed.  Roll the dough into balls about the size of a walnut and place two-inches apart on a cookie sheet.  Take a fork and dip it into some extra sugar.  Press the fork into the cookie ball to flatten.  If you like you can do it again for an interesting design on top of the cookie.  Place the cookie sheet into a preheated oven of 325 degrees and bake for about 13 minutes.  When baked let cook.  This recipe makes about 2.5 dozen.  These cookies freeze really well.
Teachable Moments
For younger children use a picture recipe.  This will help teach them pre-reading skills.  Information is arranged in a left to right pattern, the same pattern we use when reading.
You can also do math activities.  Count how many ingredients you are using and count as you add the ingredients to the bowl.  For older children you can use different size measuring cups and discuss fractions.  Two halves make a whole and four quarters also make a whole.
Language skills will of course be used throughout the activity, but you can really focus on having the children describe what you are doing at each step or what is happening to the ingredients when you add and mix them.  Finally, you can describe how the cookies taste.
This recipe is great to use with young children, as there are not many ingredients or steps involved.  You are able to keep younger children involved and complete the entire recipe.  This will give the children a great sense of accomplishment when they offer a cookie and are able to say " I made these!"
*****************
Nancy is a Professional Home Economist and has been employed by the University of Manitoba for over 23 years.  She has held management, administrative, and instructional appointments.  Her educational background includes child development, communication, human resources, and management.  She has experience working with pre-schoolers and their families, university students, as well as adult learners.