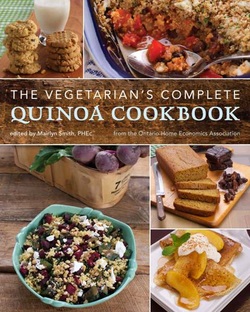 Quinoa is rapidly becoming one of our more popular superfoods. As a natural source of nutrients and with a high protein content, this versatile plant can be used in place of almost any grain, in any meal of the day—the perfect food for vegetarians.
The Vegetarian's Complete Quinoa Cookbook is the only book you need to incorporate quinoa into your daily dinner or party feast; all recipes are vegetarian making it perfect for everyone! It features over 125 recipes, contributed by professional home economists, for quinoa-based meals that can take you right through the day.
Every recipe is complemented by a full nutritional profile and is less than 500 calories. Many of the recipes are gluten free. This complete cookbook has recipes for breakfast dishes, quick breads and yeast breads, lunch dishes, soups, salads, sides, main dishes, desserts and cookies and squares. The mains chapter features a wide variety of traditional recipes, as well as stir-fries and stews, dishes with Mediterranean flavours and omelettes and other egg dishes.
Easy to cook, and a great alternative to oatmeal, rice, couscous or pasta, quinoa is not only tasty and nourishing, but loaded with nutrients. The Vegetarian's Complete Quinoa Cookbook is the essential cookbook for helping you make quinoa part of a complete vegetarian diet. You don't have to be a vegetarian to love these recipes.