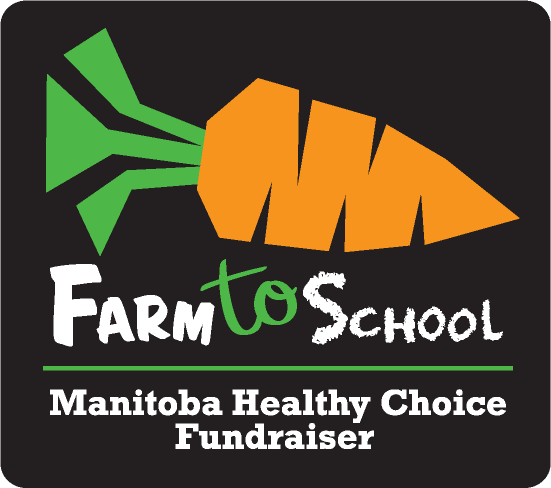 The Farm to School program is back! Here is what this years coordinator has to say:
Hi my name is Adriana Barros, professional home economists and active member of Manitoba Association of Home Economists (MAHE). I am presently involved in the unique fundraiser offering fresh local vegetables to schools and daycares across Manitoba.
Farm to School Manitoba Healthy Choice Fundraiser is back for another year of distributing local Manitoba vegetables to communities' province wide.  The collaboration of Manitoba Association of Home Economists, Peak of the Market, Buy Manitoba and the Province of Manitoba gives schools and daycares the opportunity to fundraise by selling bundles of locally grown potatoes, carrots, onions, parsnips and cabbage in $10 or $20 bundles;  with schools and daycares keeping 50% of total sales. New to our fundraiser this year is we will be delivering donated bundles to the Manitoba Association of Food Banks on behalf of donating schools and daycares across Manitoba.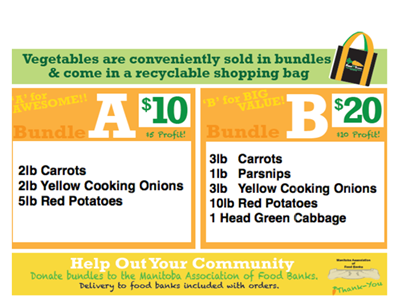 We want to invite MAHE members to encourage schools (K-12) and licensed daycares across Manitoba to participate. This is a great opportunity to provide:
Fresh local vegetables at or below supermarket prices
Offer healthy food choices
Support local producers
Support your schools and daycares nutrition guidelines
Connect the program to classroom resources available at www.farmtoschoolmanitoba.ca
Try new recipes with Manitoba vegetables available at www.peakmarket.com/recipes
Help us reach our goal of distributing 1.2 million pounds of vegetables, that's 1 pound for every Manitoban in our province!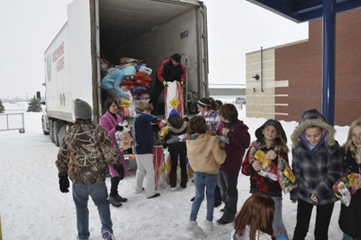 If MAHE members and/or their contacts are interested in this new fundraising idea for their local school or daycare more information can be found at www.farmtoschoolmanitoba.ca or call 1-866-261-0707.
Farm to School – Manitoba Healthy Choice Fundraiser can be scheduled anytime from September 16th to December 11th 2013.
Happy Fundraising!
Adriana Barros PHEc.
Executive Coordinator
Farm to School Manitoba Healthy Choice Fundraiser