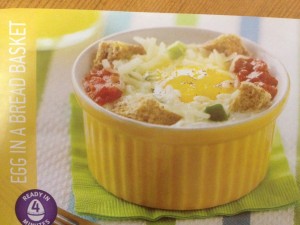 By Meghan Rafferty, PHEc
I have been fortunate to have had many opportunities to learn recipes and cooking tricks from my Grandma. She lives in Toronto so when I visit I always make a point of asking her to include me in the kitchen as much as possible. And let me tell you – I think she is MAGIC. I can think that recipes are impossible and she always has the perfect trick that makes it so much easier! I think it's some type of Grandma Wizardry, but I can't quite tell yet. On top of regular cooking for her family, she catered a lot of large dinners for business associates of my grandpa's when he was still working so I think the magic has accrued over time.
A few years ago I was chatting with her and saying that I would like to find more ways to add eggs to my diet and she mailed me a recipe that she found. She recommended it because it was quick, healthy and delicious, knowing that those are my requirements for a great recipe. In true Grandma-style she adapted it, knowing that I don't really like green peppers but LOVE red peppers. Here's the recipe: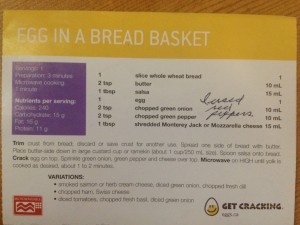 I hope this recipe might come in handy for you, I love how quick it is so I can make it early in the morning and have a decent breakfast before I leave for work at 7:30.
____________________________________________________________
As a professional home economist, Meghan Rafferty works full time as a Policy Analyst for the provincial government and works part time as a skating coach and clinician. Meghan is the Director of Public Relations for the Manitoba Association of Home Economists (MAHE), MAHE representative on Provincial Council of Women of Manitoba and committee member of the Recreation Coaches Committee for Skate Manitoba. In her spare time, Meghan keeps training for her next half marathon, loves zumba, reading and playing in her garden.