by Nancy Schneider, PHEc, M.Sc., C.I.M.
Wreaths have traditionally been used to decorate for the holidays. There are many different ways to create a wreath with children using simple materials you have around your home. You could use cardboard, a pool noodle, or perhaps an actual wreath form (straw, grapevine or wire). You probably have lots of pieces of ribbon, fun foam, extra Christmas decorations, or even pipe cleaners that you can also use on your wreath. Let your child's imagination run free as you discover items that can be used on the wreath.
To create a wreath, all you need is a round (or not so round) shape that you can attach things to. This round item will be the base for the wreath. Then, decide how you are going to cover the base (or not!). You may use wide ribbon, curly ribbon, tulle, paint, or streamers.
After you have covered the base, add your decorations. Again, be imaginative. Perhaps for a cook you add small baking utensils. A painter? Why not some paint brushes. Or stick with the traditional bows and greenery. Whatever you choose will be right for you.
Here is a sample wreath made out of cardboard. First, cut a circle the size you want your wreath to be. Then cut an inner circle.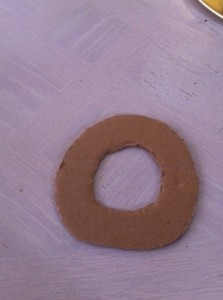 For this wreath I used tulle. I precut pieces (after measuring around the wreath).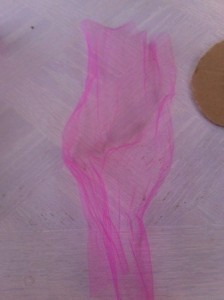 Next wrap the tulle around the cardboard. Fold the tulle in half then place the fold through the hole and pull down below the cardboard. Take the ends of the tulle and covering the cardboard, pull the ends through the folded tulle.   Then give a little tug to tighten.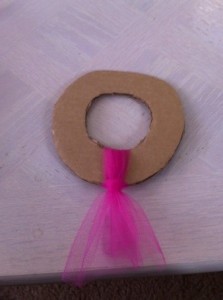 Continue to do this with each piece of tulle to cover the cardboard.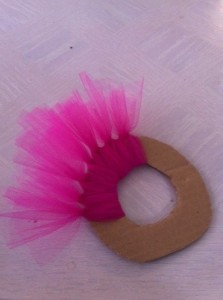 Suggestions: You may want to paint the cardboard first. Also play with the length of the tulle to determine how much you want to have the tulle hanging out.
Another option is using a wreath form. The one below is a grapevine form. To cover the form, I used wide ribbon. It would be very easy for a child to wrap around the wreath base. You will need to secure one end and then let the child wrap the ribbon.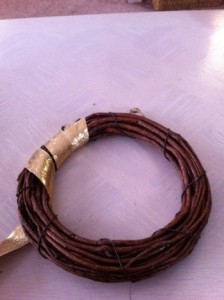 The whole base can be covered with ribbon or you may want to leave some of the grapevine base showing. A bow has been added to this wreath, but you could add anything you like.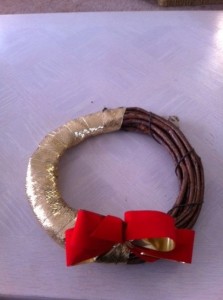 These are some very simple ways to create a wreath, especially with children. You can give them as gifts or perhaps let them hang the wreath on their bedroom door. With minimal assistance most children will be able to create their own holiday decoration.
Nancy is a Professional Home Economist and has been employed by the University of Manitoba for over 27 years. She has held management, administrative, and instructional appointments. Her educational background includes child development, communication, human resources, and management. She has experience working with pre-schoolers and their families, university students, as well as adult learners.