I've blogged before about spending time in the kitchen with my grandma but I'm going to do it again because I love it that much. I was fortunate enough to have her come visit me again from Toronto and we were able to find some quiet time amid the chaos to make meatballs and bean salad. Here are the little tidbits she shared with me:
Her grandma taught her that every proper housewife always has 60 meatballs in the freezer ready to be thawed for dinner (we only had enough to make 40)!
She brought with her a newspaper clipping of an article in her local paper. It's up on my fridge now just in case I get stumped. I definitely didn't really know what Deglaze meant—did you?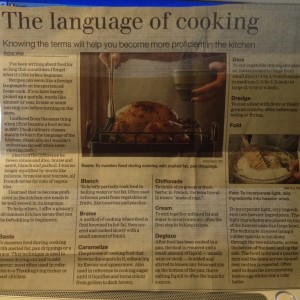 Her grandma didn't measure when she cooked and she was also illiterate so if my grandma wanted to learn how to cook something she would take each ingredient out one by one and measured it and put it back in. Luckily for me, my grandma wrote the recipes out and passed them on to me.
She opened my eyes to a Fried Egg Sandwich. Fast, delicious and very satisfying! It's perfect for a quick, nutritious meal when you are rushing around for work in the morning. I commute by bike to work so I'm always look for new breakfasts with protein that will satisfy my hunger.
Aside from the useful kitchen tips, I am always so thankful for the treasured memories I will have with my Grandma. It is not lost on me—I know how lucky I am to be able to have such a lovely lady in my life. Hope these tips help you too! Have a great day,
Meghan Rafferty is a very proud Professional Home Economist who works as a Policy Analyst for the Province of Manitoba. On the side, she is a clinician and professional coach for Skate Canada Manitoba. In her free time, she loves being physically active especially outside and sharing that with others!