Manitoba has a strong and diverse group of farmers growing and raising food for Manitoba families and the world. When you can support these farmers, it is an important part of building a sustainable local food system that brings economic benefit to our communities. Buying local can also increase the connection between you, the consumer, and the producers who work hard at bringing good food to Manitoba tables.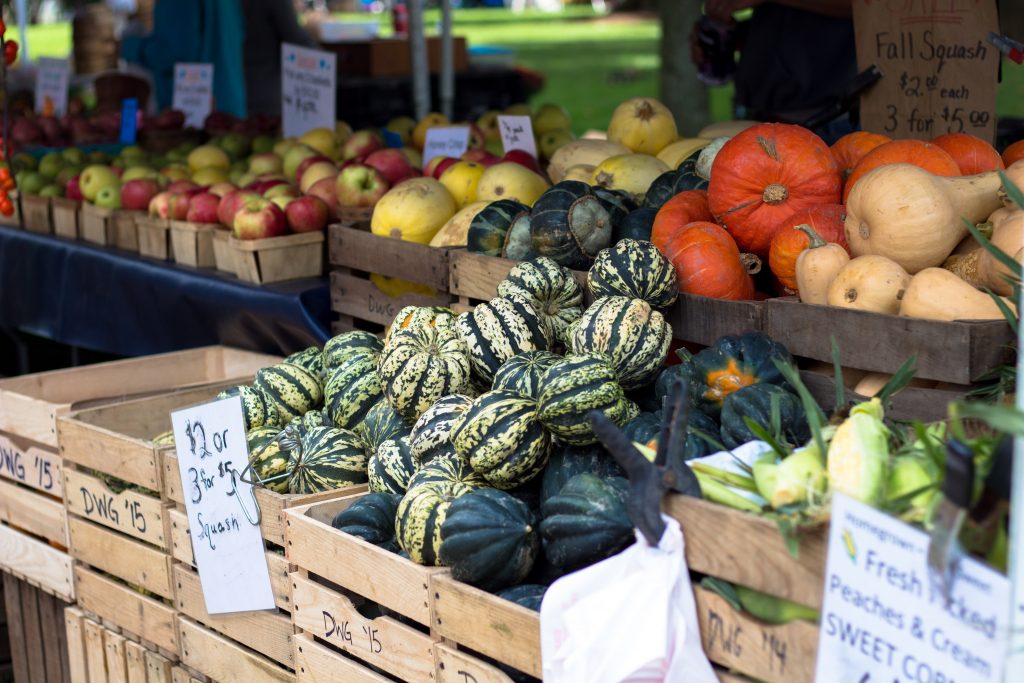 If you can buy locally, in season, or directly from a farmer you trust has met food safety standards, you can enjoy farm fresh foods while supporting a sustainable, local food economy.
Buying Produce (Vegetables and Fruit)
Did you know that there are over 100 different types of vegetables grown in Manitoba?
Peak of the Market is a local organization of vegetable growers that is committed to providing nutritious, high quality vegetables that are handled and packed with strict food quality standards.

The growing season in Manitoba is short, but advanced methods of storing vegetables (especially onions, carrots, rutabagas, beets, parsnips, cabbage and squash) allow growers to store produce without spoiling for over 6 months. Look for the Peak of the Market logo at your local grocery store to find Manitoba vegetables.
During the growing months of June through September, there are other ways to access Manitoba grown produce. Local growers may sell their fruit and vegetables through farmers' markets, U-pick farms, pre-picked market stands or through CSA subscriptions (known as Community Supported Agriculture farms).
Manitoba Agriculture has an interactive map that allows a search in any area of our province. To access the map, click here. Growing conditions affect what is available and they change quickly, so be sure to call ahead or check online if the place you wish to visit is operating and has produce available.
For a direct listing of Manitoba farmers' markets and farmers that sell directly from their farm, visit the Direct Farm Manitoba website for an interactive map. Direct Farm Manitoba is a cooperative comprised of local farmers and farmers' markets.
Manitoba also has many fruit growers that grow strawberries, raspberries, saskatoons, sour cherries and more. To find U-Pick farms or get pre-picked fruit direct from a farm, check the Prairie Fruit Growers Association.
At the Grocery Store
It can be difficult to tell what food in the grocery store is produced locally, and what is not. When possible, read the label to discover where a product is made. Some stores may even have a section or special signs for locally made food products. See if you can find Manitoba honey, hot sauce, mustard, coffee, wild rice, beans, flour, jam, chips and more!
When you can't find Manitoba products, shop Canadian. Often, you'll still support Manitoba farmers as many food products grown in Manitoba are processed elsewhere in Canada. 1 of 8 jobs in Canada are related to agriculture, so buying Canadian food products is an important part of supporting our economy.
Manitoba's population is small and Manitoba farmers are efficient. We grow more than we can consume, so Manitoba commodities are exported across Canada and the world. This export allows us to trade for other goods that are not produced or manufactured in Manitoba and consumers benefit from a wider selection of food products.
Livestock, Dairy & Eggs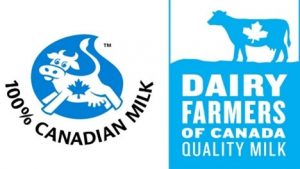 Manitoba DAIRY farmers, under the umbrella of the Dairy Farmers of Canada, have some of the highest standards in the world. There are around 260 dairy farms in Manitoba that supply milk for fluid milk, cheese, cream, butter & other dairy products. Look for these logos to ensure you are buying 100% Canadian milk. Visit the Dairy Farmers of Manitoba for recipes and more information.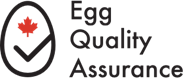 EGGS are an inexpensive healthy choice for protein, vitamins & minerals. You will see many different types of eggs in the grocery store, but all are grown with strict standards for food safety and animal care. If you would like to learn more, visit the Manitoba Egg Farmers.
MEATS in Manitoba
If you are buying any type of local meat, it is important to know that it has been slaughtered at a licenced and inspected meat plant.
Manitoba produces about 4% of the CHICKEN grown in Canada and chicken purchased at a grocery store in Manitoba is likely raised by a Manitoba farm family. Look for the "Raised by a Canadian Farmer" logo to know that you are buying local. Visit the Manitoba Chicken Producers to learn more about how chickens are raised in Manitoba and to find great recipes for this nutritious food product.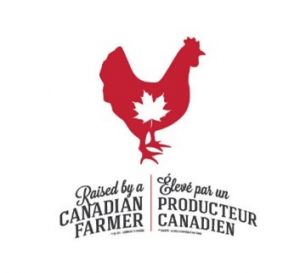 If you wish to buy chicken directly from a farmer, it must be a whole eviscerated bird. The label must include the name and address of the producer and include the words Not Government Inspected.
TURKEY is also raised in Manitoba and can be purchased whole or as individual cuts to make great meals. Tasty recipe ideas for turkey are provided by the Manitoba Turkey Producers.
Many different cuts of BEEF make great family meals. Manitoba has a vibrant beef industry, with farmers & ranchers using land not suited to growing crops to raise cattle. Find out more about how beef animals are raised and try the delicious recipes from the Manitoba Beef Producers.
Manitoba is the leading producer of PORK in Canada, with about half of what is raised being exported around the world. Manitoba Pork has recipes, nutrition information and information about how pork is produced.
Fresh LAMB is available in several locations in Manitoba. For information on selecting cuts and how to cook lamb, visit the Manitoba Sheep Association.
BISON is available in some retail locations but can often be purchased directly from farmers who have had their animals slaughtered in an inspected plant. For a list of producers, recipes and where to buy, visit the Manitoba Bison Association.
Manitoba FISH are harvested mainly from Lake Winnipeg and Lake Manitoba, but there are also a number of lakes in northern and southern Manitoba that are fished for commercial sale. Most commercial fishing in Manitoba is for export out of the country, but if you are looking to purchase fish caught in Manitoba lakes, ask your local fish store for what they have in stock: walleye (pickerel), whitefish, goldeye, trout and northern pike are some likely options.
Grains, oilseeds, soybeans & pulses
Manitoba grows a wide variety of PULSES including field beans (kidney, pinto, navy, romano, black, large white) faba beans, field peas and lentils. SOYBEANS are also an important crop in Manitoba. The processing of these products is a growing industry in our province. Add pulses to your favourite recipes or perhaps try a new one from Manitoba Pulse & Soybean Growers or from the Community Food Centres Recipe Book by Pulse Canada.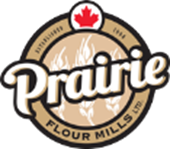 Wheat, Barley, Oats, Rye & Buckwheat are GRAINS that are grown widely in Manitoba. Processing these grains locally is another large part of our food economy. There is one local wheat flour mill, Prairie Flour Mills, located in Elie, Manitoba. Three major oat milling companies are also in our province; Richardson Milling (Portage la Prairie), Emerson Milling (Emerson) and Buffalo Creek Mills (Altona). They produce a variety of products from oat flour to granola, to dehulled oats used in pet nutrition. Looking for organic grains? Adagio Acres is a small farm that sells a variety of grains and seeds direct to consumers, and they also offer a Grain CSA where you can get a bulk assortment of organic Manitoba grains and seeds from various farmers.
OILSEEDS grown in Manitoba include flax, canola, hemp and sunflowers. One of Manitoba's top crops is canola. Canola oil is healthy, has a mild flavour that is great for baking, cooking or frying and is inexpensive. Great recipes and information about canola are available at Canola Eat Well. Sunflowers are grown in Manitoba for the confectionary and baking industries as well as birdseed and animal feed. Flaxseed is known for its nutrition and is grown in Manitoba for the food and baking industry, as well as for use in personal care products, animal feeds and for industrial use. Hemp seed is another healthy seed grown in Manitoba. It can be enjoyed as a seed, as oil or as a powder. Look for these food products in grocery stores. Even if the final product is processed elsewhere, there's a good chance it was grown right here by a Manitoba farmer.
Wild Rice
Most of the wild rice production in Manitoba takes place east of Lake Winnipeg and in the Northwest part of the province around Flin Flon and The Pas. Wild rice is a North American native grain and has been harvested by Indigenous peoples for centuries. Now Manitoba produces almost 25% of Canada's wild rice. Look for local products in grocery stores to enjoy rice that has been grown and harvested from the lakes of Northern Manitoba.
Manitoba produces a wide variety of food products. If you would like to get a better understanding of the families behind Manitoba's agriculture industry, what Manitoba farmers grow, and how to use their products watch and follow Manitoba's most-watched cooking show, Great Tastes of Manitoba. Each week local experts representing Manitoba farmers join the host to cook with locally grown ingredients and discuss how food is produced in Manitoba. The website is an amazing collection of recipes and cooking episodes using local foods.
Read these articles next:
What's in Season on the Prairies
Cooking with Manitoba Foods