Gardening can have a significant impact on your mental and physical health.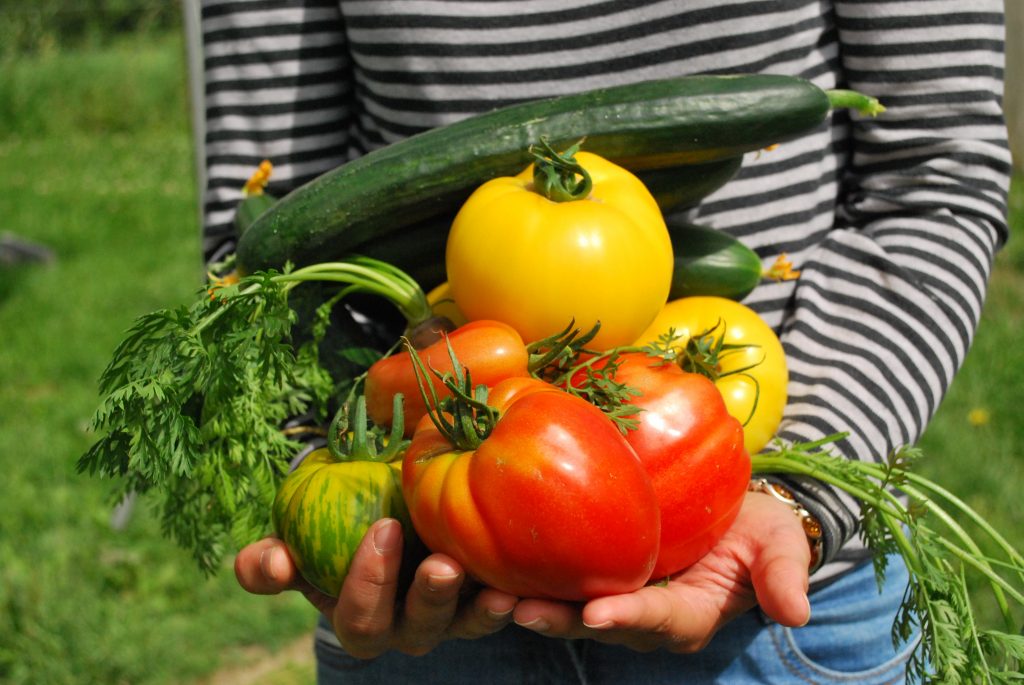 There are countless benefits to gardening!
Access to healthy, fresh food throughout the summer and fall
Extra produce gives the opportunity for sharing with others and preserving for winter months
Teach your children about the environment and how things grow
More time outside relieves stress and enhances your feeling of well-being
Save money on vegetables
Growing your own fresh herbs and vegetables makes cooking more fun and rewarding!

To begin growing your own food, start with vegetables that are suited to your available space, and known to be easy to grow in Manitoba. Some vegetable varieties must be started indoors, while hardier types can be sown directly into the soil. Do some research and reading first so you can increase your chance of success.
A Community Gardener's Guidebook gives detailed instructions on how to plan and plant your garden, with dates applicable to Winnipeg and the Southern region.
Basic Gardening Manual for Northern Manitoba is another excellent resource with information for growing your own food. Manitoba Agriculture and Resource Development (MARD) has a YouTube Northern Gardening Playlist with topics ranging from gardening questions about pests and weeds, to planting trees and how to harvest your vegetables. The videos were made through the Northern Healthy Foods Initiative but contain information that is applicable and useful to anyone in Manitoba.
Home economist Getty Stewart is an avid gardener and has a collection of gardening articles and advice on Planting, Planning and Harvesting your Garden in Manitoba.
If you are a Facebook user, check out some of the Manitoba gardening groups. These groups of friendly Manitoba gardeners are a great source of tips and encouragement. You can read and observe silently or jump in with your own questions, comments or gardening photos. Many of these groups are listed as private to deter unsolicited ads and unfriendly users, but don't let that stop you. Send a message to the group to indicate your interest in joining and you'll be welcomed with open arms.
Manitoba Vegetable Gardeners – Focus on growing vegetables
Manitoba Gardeners – For flowers and vegetables
What To Do With What You Grew in Manitoba – Focus on preserving and using your produce
Herb Chat – Growing and enjoying herbs on the Prairies
If you have limited space to put in a vegetable garden, consider a container garden. Container gardening is well-suited to small yards and perfect for balconies and patios. If you have access to a space for a couple of pots of soil, try growing a bush variety of tomato or some herb plants. It may not seem like much, but it gives you a start in learning about gardening and some fresh produce. Check for information on container gardening when you are doing your research.
Growing Locally
No two gardens are alike. Different soil, sun, shade, water, elevation and temperature fluctuations make each garden unique. This is the reason it is always best to get gardening advice, seeds, seedlings or plants from as close to home as possible. For example, tomato seeds from California will not do as well as seeds that have been bred and used in your area for decades. Local plants will not only have the best yield, size and flavour but they'll also be the most disease resistant and tolerant of local growing conditions. Whenever possible, shop locally for your seeds, transplants and plants.
Here are some Manitoba companies that offer seeds ideal for Manitoba.
Jeffries Nurseries (for fruit shrubs & trees)
Grower Tip: There is important information on seed packets so be sure to read and save this information for reference. You may also want to take notes throughout the season as your garden is growing. This information is helpful when reviewing how the garden performed, and planning what you might do differently next season.
Did you know?? The City of Winnipeg Public Library offers a free SEED LIBRARY to encourage gardening and local food production. Click here for details.
Allotment Gardens vs Community Gardens
Allotment gardens are individual land plots that are available to rent. Allotment gardens are found in cities where families have limited space to garden vegetables. Each individual renter is responsible for the planning and maintenance of their own garden.
Click here for information on allotment and community gardens in the City of Winnipeg.
Community gardens are found throughout the province of Manitoba. They provide an excellent way for people to get involved in their communities while contributing time and effort toward growing healthy food. By spending time working in the garden, members develop supportive friendships, increase their physical activity and create a source of healthy produce to take home to their families.
How do I get involved in a Community Garden?
Many neighbourhoods and communities around the province have community gardens. Ask local leadership, community centres or search Facebook for community garden groups in your area. Most town/community website pages will include information on community gardens.
If there is not a garden in your community, you could consider setting up our own community garden! With the right group of dedicated people, it can be a very rewarding experience.
10 Steps to Starting a Community Garden
If you live in Northern Manitoba, there is funding available for Community Garden projects through the Northern Healthy Foods Initiative. Read more in the article, Nutrition in the North.
Read these articles next:
What's in Season on the Prairies
Freezing Fruits and Vegetables