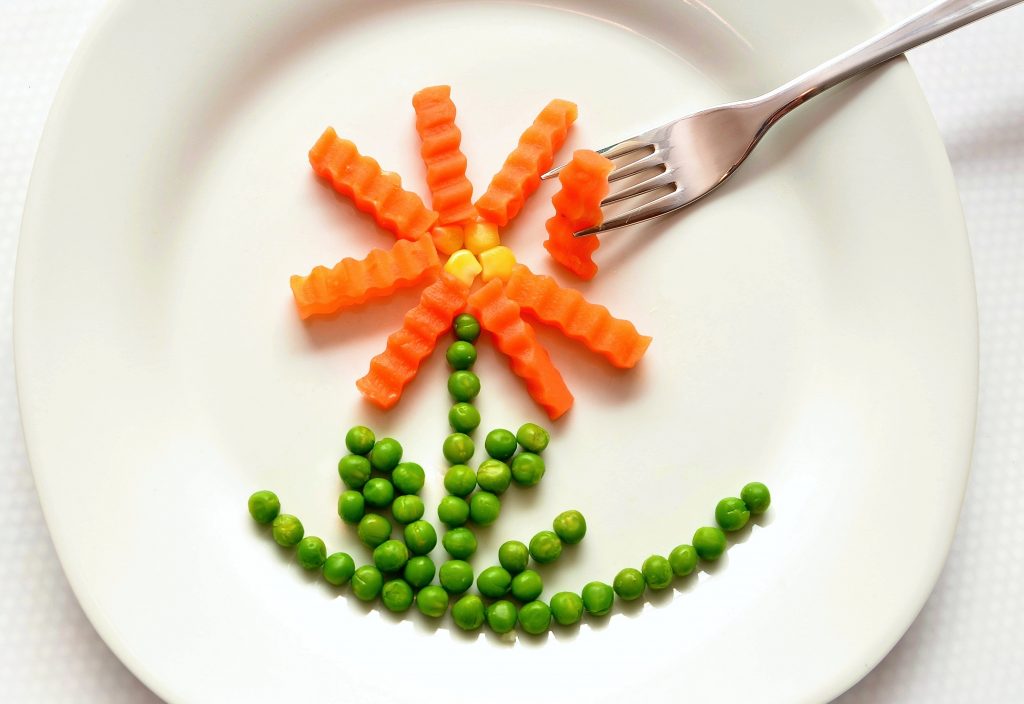 Don't let price or availability of fresh produce prevent you from filling Half Your Plate with vegetables. Frozen vegetables give year-round variety at affordable prices.
Frozen vegetables are just as nutritious as their fresh counterparts because they are harvested and quickly frozen at their peak when nutrient content is highest. In Canada, frozen vegetables provide an excellent option when fresh produce is out of season and expensive to buy.
Do not worry that frozen vegetables will be mushy and lack flavour. When cooked properly, they are a delicious addition to any meal.
Here are the best ways to cook frozen vegetables:
1. Sautéing
Sauté frozen vegetables in a frying pan on the stove for the most control and best flavour, colour and texture. Cooking in an open pan on the stove also gives you the greatest control for cooking vegetables according to your preferred tenderness.
Pour frozen vegetables (do not thaw) into a wide pan over medium-high heat.
Add one tablespoon (15 mL) of oil or butter to the pan and stir.

Cook, uncovered, for 5-7 minutes, until heated through, stirring occasionally. You may need to add a tablespoon of water if the pan gets too hot and vegetables look dry.

Season with your favourite herbs and spices such as Italian herb seasoning, Cajun seasoning, Parmesan cheese, fresh pepper and squeeze of lemon juice, a splash of soy sauce or balsamic vinegar, etc. You can also add a little crushed garlic or ginger to the sauté pan for extra flavour. Here are some of our

Favorite Seasoning Blends

.
2. Roasting
Roasting in the oven on high heat with a small amount of oil and sprinkling with your favourite seasoning will result in nicely roasted, not soggy, vegetables that make a great side dish. Remember, do not thaw the vegetables and follow the advice below for heating your pan, using high heat and adding fat.
Pre-heat your oven to 200-225°C/400- 450°F.
Coat your roasting pan with a little oil and put it in the oven to preheat as well.
Coat your frozen vegetables (do not thaw) in a bit of oil and add them in a single layer, spread apart slightly, to your hot roasting pan.
Roast for 14 to 25 minutes depending on the vegetable, flipping halfway through.
14-17 minutes: asparagus, peas, corn, green beans
17-20 minutes: broccoli, Brussel sprouts, cauliflower, beets
20-25 minutes: carrots, winter squash, sweet potatoes
Toss your roasted vegetables with salt and pepper or your favourite combination of herbs and spices like rosemary, cumin, paprika, curry powder, garlic powder, onion powder, Tajin, Parmesan cheese, nutritional yeast or fresh parsley, basil or cilantro just before serving.
3. Steaming
When cooking frozen vegetables, add as little water as possible to prevent them from becoming mushy. This is why steaming is recommended over boiling.
Place steaming basket in a pot and add water just up to the bottom of the basket so vegetables are not sitting in water.
Cover and bring water to a boil.
Add frozen vegetables (do not thaw) to the basket.
Cover pot with a lid and cook to desired tenderness. Check frequently as vegetables will cook faster than you expect and will continue to cook a little once off the heat. The following are suggested times but these will vary depending on thickness of the vegetables and personal preference.
2-5 minutes: peas, corn, spinach, kale
5-7 minutes: asparagus, broccoli, green beans, cauliflower
8-12 minutes: beets, Brussel sprouts, carrots, winter squash, sweet potatoes
Add a bit of oil or butter, salt, pepper and fresh or dried herbs to season your vegetables.
4. Microwaving
Microwaving frozen vegetables is quick and easy. Use minimal water and check frequently to prevent over-cooking.
Place frozen vegetables in a covered, microwaveable dish.
If cooking vegetables like Brussel sprouts, winter squash, sweet potatoes or carrots, only add two or three tablespoons (30 – 50 mL) of water to the dish. It is actually not necessary to add any water for tender vegetables like peas, corn, green beans, etc. unless you prefer them cooked very tender.
Microwave on high for 4-6 minutes, stirring every 60 seconds after the first two minutes of cooking. Repeat until you reach your preferred texture – poke your vegetables with a fork to check doneness.
Drain and add a bit of oil or butter, salt, pepper and fresh or dried herbs to season your vegetables.
5. Boiling
Although instructions printed on the back of every bag of frozen vegetables lists boiling as a preferred method, boiling is actually not always a great way to cook frozen vegetables. Boiling adds too much water to the vegetables, leaches out nutrients and greatly increases the chances of mushy, overcooked vegetables. To cook frozen vegetables on top of the stove, try sautéing or steaming as recommended above. If you prefer boiling, use as little water as possible (you do not need to cover vegetables completely) and cook for 3-6 minutes checking carefully to prevent overcooking. Frozen peas and corn are fairly firm vegetables and less likely to be overcooked when boiled.

Use As Is – No Cook Recipes

It may be a surprise to hear you don't always need to cook frozen vegetables. For smoothies, you can add frozen vegetables like kale, spinach, peas or even cauliflower directly into the blender.

For other recipes like the salads below, just thaw frozen veggies and toss them into the salad bowl.

From home economist, Getty Stewart:
Southwestern Black Bean & Quinoa Salad
Classic Three Bean Salad
Corn & Tomato Salad

From registered dietitian, Sue Watson:
Green Smoothie
Add to Other Recipes
Probably one of the best ways to use frozen vegetables is to add them to other recipes. Even if a recipe doesn't call for them, add a cup of frozen vegetables to provide extra colour, texture and nutrients. Most soups, stews, curries or casseroles can easily accommodate more vegetables. Try some of the recipes below to get you started. Don't be afraid to get creative about adding frozen vegetables to some of your own family favourites.
From Health Canada:
Egg and Veggie Scramble
Tofu and Vegetable Stir Fry
Moose Stew with Mixed Frozen Vegetables
Three Sister's Soup
From Healthy Start for Mom and Me:
Healthy Start's Shepherd's Pie
Healthy Start's Jazzed Up Noodles
Healthy Start's Spinach Bake
From home economist, Getty Stewart:
Ham and Peas Mac and Cheese
Cauliflower Chickpea Curry (Gluten Free & Vegan)
Pork and Green Bean Chili
From registered dietitian, Jessica Penner:
Peach Chutney & Samosa Stew (Gluten Free & Vegan)
Check out the Great Tastes of Manitoba Recipe pages to find recipe ideas that use Manitoba food products and offer links to Manitoba organizations offering recipe booklets, recipe search features and tips for using healthy, affordable, local foods. Try adding frozen vegetables to existing recipes and you will find it becomes a convenient way to add colour, nutrition and flavour to your dishes.
Read these articles next:
Freezing Fruits and Vegetables
Grow Your Own Food