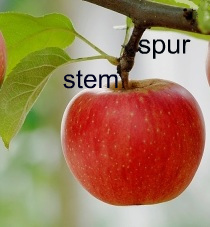 By Getty Stewart, Professional Home Economist
The calls for large eating and baking apples continue to come in to Fruit Share.  It's great to know we're rescuing so many apples and putting smiles on so many faces with those lovely Manitoba apples.
For all of you out there picking apples, here are a few apple picking tips to help you out.
Start by removing any fallen apples that may be on the ground to keep them separate from the fresh ones you pick.  Apples that have been on the ground for a while are at risk of contamination and should be composted.  Once the area has been cleaned, any fruit that falls while you're picking can be used.   If you're uncertain about the ground underneath the tree, lay down a tarp for apples to drop on.  No matter how careful you are, some apples will drop to the ground while picking.
Pick apples from the lower branches first to avoid having ladders or apples from the upper branches falling on lower ones and accidently bruising them.
When picking an apple, place your hand underneath the apple, roll the apple toward the branch and twist gently.  The stem should break free from the spur.  Avoid jerking or pulling the apple as this may remove the fruit spurs that are critical to next year's crop.  Your apple should still have the stem but the spur should remain on the tree.
Two or more apples may be joined on one spur.  They usually come off at the same time, so be prepared to catch them all.
Gently place the apples in a bag or basket to avoid bruising them.
Empty your bag or basket frequently to avoid spilling or bumping the apples.
Place any heavily bruised or damaged fruit in a separate container. They'll spoil much more quickly and so should be used right away.  If left with other apples they may cause other apples to spoil as well.  As the old saying goes "one bad apple spoils the bunch."
Do not wash your apples until you are ready to eat them.  Unwashed apples store longer than washed apples.
Store in a cool dark area until ready to use.
If storing apples, check on them every few days to ensure there is no sign of spoilage or pests.
********************************
Getty Stewart is a Winnipeg-based Professional Home Economist passionate about connecting people with local fruits and veggies.  She is founder of Fruit Share, a volunteer run fruit rescuing program in Winnipeg, and blogger of VeggieDelight, a blog about gardening on the banks of the Red River.  She is also Past President of the Manitoba Association of Home Economists.