Hello   Boozhoo   Tansi   Aaniin   Wotziye   Ho/Han   Tanshi   Asujutilli
Indigenous food culture has experienced a renewed energy and interest as a means of strengthening cultural identity, improving healthy living, and as a path to reconciliation.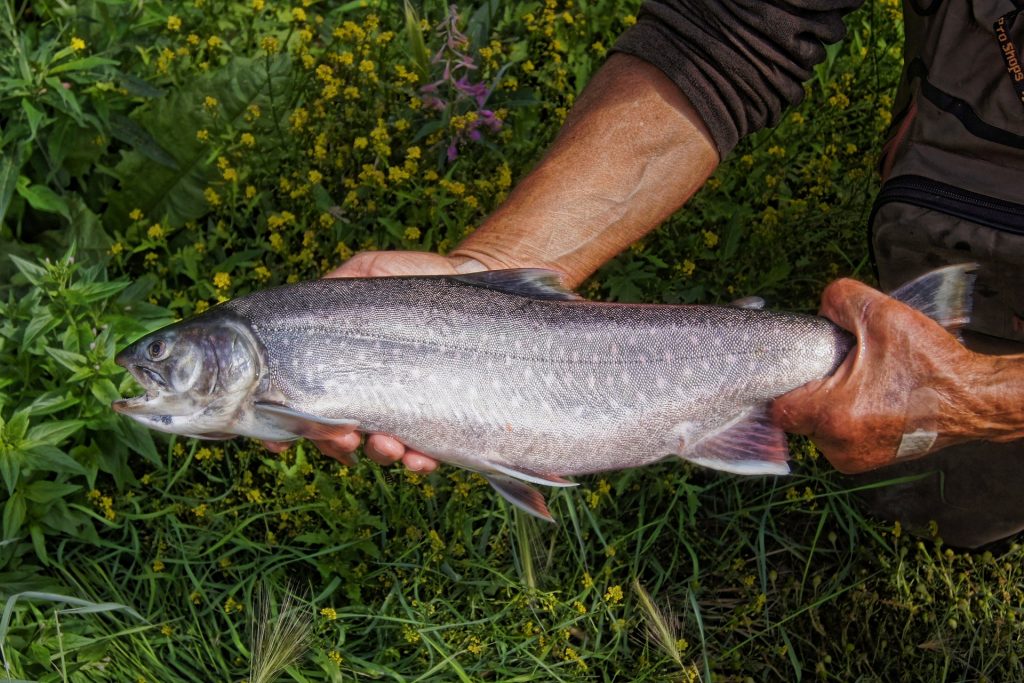 Indigenous foods are celebrated as a natural, environmentally conscious way of harvesting healthy food from the land. Over time, the consumption of traditional foods has decreased among Indigenous youth, but there are strong reasons to support the revival of traditional food networks.
Importance of Traditional Foods
Sharing traditional foods is an important part of maintaining and celebrating culture in the Indigenous community. By sharing knowledge of how to source and prepare foods with younger generations, bonds within the community are strengthened. With many Indigenous people now living in urban areas, it isn't easy to learn traditional methods by watching and doing. Provincial and federal laws related to wildlife can also be a barrier for some to access traditional foods. Efforts must be made to reach out to Elders for their knowledge and to find traditional recipes and ingredients. Ask community leaders and educators for guidance on how you can learn more about traditional food preservation, preparation and cooking. There may be organizations within your community that offer mentoring programs for young people that focus on teaching traditional skills.
Read Traditional Foods for Indigenous Peoples for recipe ideas on how to include traditional foods in your diet.
Balance of Traditional Foods with Store Bought Market Foods
The First Nations Health Authority of British Columbia has developed excellent resources to provide guidelines and information for healthy eating habits. Combining traditional foods with nutritious food choices from store bought foods can provide a healthy diet.
Some recommendations for healthy eating:
Make water your beverage of choice. Reduce the amount of sugar-sweetened beverages in your diet.
Increase the natural, traditional foods in your diet. Processed foods are higher in fat, salt and sugars.
Eat more vegetables and fruit for important nutrients that protect your body from chronic disease.
Become familiar with reading nutrition labels to make healthy food choices when shopping.
Participate in community gardening efforts.
Include all family members when sharing food and teach children and grand-children traditional skills that will benefit future generations.
Access to Healthy Foods
For Indigenous people living in the North or in remote communities, access to healthy fresh foods is a challenge. High prices in stores, poor quality and lack of selection are barriers to healthy eating. Processed, less-healthy options for snacks and meals often fill the shelves of grocery stores and become the more affordable option. Work by governments at every level must continue to improve healthy food access for Indigenous families.
Community gardens and greenhouses not only provide healthy fresh foods, but they can provide physical and spiritual benefits from working together on the land. Even a small garden can provide healthy vegetables for families to use and lower the cost of food shopping. Fresh fruit and vegetables can be preserved to last over winter months and can provide families with a convenient source of healthy foods.
Through the Northern Healthy Foods Initiative, Manitoba Agriculture and Resource Development has created informative videos on the YouTube Northern Gardening Playlist with topics ranging from common gardening questions, to hydroponic gardening (no soil), planting trees and freezing or canning vegetables and fish. There are additional resources on gardening in the Northern region available in Government of Manitoba Indigenous and Northern Relations.
Special Health Concern – Diabetes
Many diets today include processed, convenient, store-bought items which are generally not as nutritious as traditional foods. Excessive food marketing and over-abundance of high-calorie, low nutrient food has led to an increase in health problems among Indigenous people.
Diabetes is a disease that occurs when the body cannot regulate the amount of glucose (sugar) in the blood. When foods are eaten, blood glucose levels naturally go up. The body produces insulin to regulate the sugars, but sometimes the body does not produce enough insulin, or the insulin it produces cannot be used properly to manage the sugar. When blood glucose levels are not managed in a healthy way, individuals can develop diabetes. Diabetes has serious health implications and can lead to other serious problems like kidney damage, blindness, heart disease and stroke.
According to Diabetes Canada, in their article Indigenous Communities and Diabetes, Indigenous peoples are at a higher risk of developing type 2 diabetes. There is not a cure for diabetes, but individuals can make personal choices that can help to either prevent diabetes, or to delay or stop the onset of further health problems due to the disease. The main recommendations by health professionals are to make healthy food choices, maintain a healthy body weight and take time for regular physical activity.
Just the Basics – Aboriginal Version by the Canadian Diabetes Association gives good advice on healthy eating. Managing glucose levels allows people with diabetes to lead healthy lives and can prevent or at least delay further health complications due to the disease.
Other articles to read from the Dietitians of Canada:
Physical Activity and Diabetes Information for Aboriginal People
Preventing Diabetes in Aboriginal People
Access to Affordable Food for Aboriginal People by the Dietitians of Canada
Articles to read next:
Healthy Cooking at Home
Understanding Food Labels