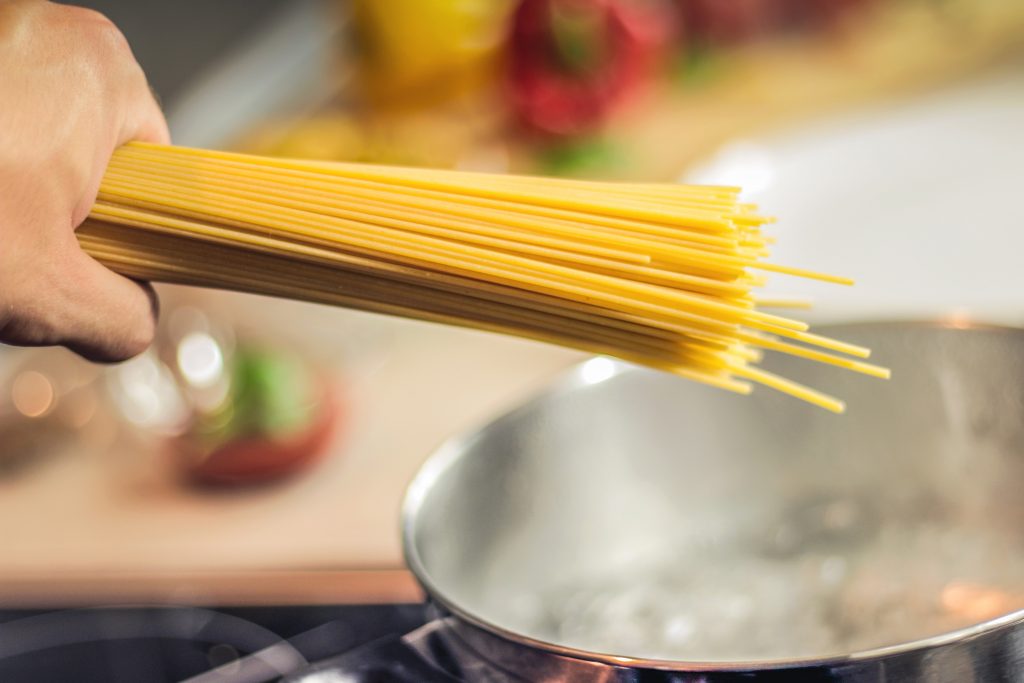 There are basic foods you should try to keep on hand in your kitchen for easy meal planning and for times when you are unable to go to the store. These kitchen staples give you options for making healthy food without a lot of extra ingredients.
Many low-cost foods have high nutrition and provide excellent food value. If you can keep the following food items on hand, you will be able to make tasty, healthy meals quickly.
Frozen Vegetables/Fruit
Frozen vegetables and fruit are often less expensive than buying fresh and provide the convenience of longer storage. There is very little difference in nutrition, so if you have good freezer space, buy large bags of frozen vegetables to have a healthy option in cooking your meals.

How to use frozen fruits and vegetables:

Add to smoothies
Add frozen vegetables to soups, casseroles and lasagnas
Add frozen fruit to baked goods, like these Blueberry Oat Muffins from the Dietitians of Canada.
Add frozen fruit to oatmeal or plain yogurt
Add frozen vegetables to an omelette or macaroni and cheese
Use frozen vegetables as a delicious side dish with dinner. See Cook and Enjoy Frozen Vegetables for cooking ideas.

Canned and Dried Beans/Legumes
Beans and legumes can provide the body with a lot of important nutrients like protein, iron and fibre. Beans and legumes are called pulses in Canada and they are alternatives to meat that can be purchased from the store dried or canned. If you are buying cans, look for beans that are low sodium (salt) or have no added salt. If there are only salted options available, you can reduce the amount of salt just by rinsing under cool running water for a few minutes.

Soak dry beans/legumes overnight to decrease the cooking time and make it easier to prepare. In the morning, give them a quick rinse before cooking.

When you are buying dried lentils and beans, there is a small risk that pebbles may have passed through processing and be among the product so check your dry goods before soaking to make sure there aren't any stones.

How to use more beans and legumes:

When you are cooking ground beef, swap half of the meat for a can of mashed kidney beans
Add canned beans to salads for extra protein
Add dried beans or lentils when making soup – be sure to take time to fully cook
Create a Lentil Tomato Sauce and serve over spaghetti noodles for a vegetarian meal.
Use canned chickpeas to make hummus and pair it with favourite vegetables and crackers. Hummus can also be used as a spread in sandwiches and wraps.
Roast dried or canned chickpeas in the oven and season with desired seasonings like sea salt, garlic/onion powder, chilli powder or nutritional yeast for a crispy protein filled snack option. Try this delicious Crispy Chickpeas and Pumpkin Seeds with Lime recipe.
For more information and great recipes for cooking with pulses, check out these links from Pulse Canada:
Cooking With Pulses
Community Food Centres Canada Recipe Book

Canned Fish
Canned fish is a great low-cost protein option to keep on hand. Look for options packed in water, not oil, seasonings or brines. This will help ensure you pick the option with the least amount of salt and added fat.

How to use canned fish in meals/snacks:

Add canned fish to a snack plate with whole grain crackers and a couple of your favourite vegetables
Add canned salmon or tuna to sandwiches. Try the 5-Minute Salmon Salad.
Put canned fish on top of a green salad
Add canned salmon to casseroles or in your favourite pasta bake recipe. Try this from Healthy Start for Mom & Me or the Tuna Broccoli Pasta from the Dietitians of Canada.
Use canned fish as part of a hearty and delicious dip, like a smoked fish dip to serve with crackers.

Eggs
Eggs are a good source of protein and have lots of nutrients like Vitamins A, D, E, and B12. Eggs can be enjoyed in a variety of dishes for breakfast, lunch, and dinner or as part of a hearty snack.

How to use eggs in meals/snacks:
For many recipes on how to use eggs, visit the Manitoba Egg Farmers Recipe booklets.
Pasta Sauce
Pasta sauces are usually tomato based and are extremely versatile. It is good to have on hand because it can be used in many dishes such as soups, pizzas and lasagnas.

How to use pasta sauce to meals/snacks:

Make simple pizza buns with your favorite toppings.
Hawaiian Enchiladas with different toppings to change up the flavours.
Spaghetti Bolognese or other pasta dishes. If you don't have ground beef on hand, you can swap out beef for lentils for a leaner protein/vegetarian option.
Homemade Mini Pizza Sandwiches or Calzones.
Mix any type of cooked pasta with vegetables and leftover chicken and pasta sauce and bake in oven. Add cheese and spices like oregano or basil for extra flavour.

Pasta, Rice and other Whole Grains
Grain products such as rice, pasta, bread and oats are great food items to keep on hand. Whole grains offer more nutrients than white, refined grain products and they also keep you feeling more full for longer.

Stock up on whole grain products like pasta (macaroni, spaghetti and rotini), breads or baking ingredients (flour and oats) when they are on sale. These items last a very long time if they are stored properly. Bread can last in the freezer for months after the expiry date, and items like naan and tortilla wraps also freeze well. Read Safe Food Storage for more information on storing food well.

Whole grain products sometimes cost more when compared to other white, refined grain products, but they are a healthier choice so its important to watch for these items to go on sale. Any extra whole grain flours can be stored in air tight containers in the freezer to keep them fresh.

Store any dry food in sealed glass jars or food grade plastic containers.

Read more about Whole Grains in these articles from the Dieticians of Canada:
Choosing Whole Grains
Cooking with Whole Grains

Heart-Healthy Fats like Oils and Nuts
It is healthy for you to eat foods that have healthy unsaturated fats to lower the risk of heart disease. Oils such as canola oil and olive oil are good to have on hand for sautéing vegetables or making homemade salad dressings.

Foods that contain healthy fats include peanut butter, nuts (for example almonds, walnuts and pecans), and seeds (like flax or sunflower seeds). These foods also provide a source of protein and can be added to meals and snacks. No-name peanut butter is usually the best value and should be added to your basic pantry supplies.

How to use more healthy fats in meals/snacks:

Mix nuts like walnuts or almonds with seeds and dried fruit as part of a healthy trail mix snack.
Anytime you are cooking, replace shortening, lard and butter with oils like canola oil, soybean oil or olive oil.
Make a dressing for salads or for drizzling on bread from olive oil and plain or flavoured vinaigrette.
Make a delicious pesto sauce with walnuts, olive oil, basil and a few spices like this Basil Walnut Pesto. This can be used on pizza or mixed in pasta dishes.
To learn more about the benefits of choosing foods with healthy fats, read the Canada's Food Guide recommendations about increasing heart-healthy fats in your diet.

Powdered Milk
Skim Milk Powder is another great kitchen staple to keep on hand. It is a convenient dairy food that blends easily and instantly into all types of food preparation using milk. Skim milk powder contains the same nutrients as fluid milk including protein vitamin D, vitamin A and calcium.

Unlike fluid milk, powdered milk has a long shelf life if it is stored properly. Unopened skim milk powder can last up to one year if kept in a cool, dry place. Opened powdered milk can last outside of the fridge for 3 months and should be placed in an airtight container so it doesn't absorb moisture. If you are looking to extend the life of the opened skim milk powder further, place in the freezer for up to 3 years. Once powdered milk has been mixed with water, treat it like fresh milk. Keep milk refrigerated and use within 5-7 days, or freeze for up to 3 months.

How to use skim milk powder in meals/snacks:

Add to baked goods if recipe calls for milk
Add to a healthy granola and enjoy as a cereal or with yogurt. This recipe is flexible and ingredients may be omitted or substituted for other ingredients you already have on hand like nuts or dried fruit, and maple syrup instead of honey.
Delicious in homemade or store-bought mac & cheese
Add to any cream sauce or alfredo sauces
Add to soups that use milk as an ingredient
Add to smoothies and drinks like hot chocolate, chocolate milk, coffee or tea
Add to homemade oatmeal
Add to mashed potatoes
Add to casseroles/pasta bakes
Read more about how to use Skim Milk Powder in your cooking:
Dieticians of Canada All About Skim Milk Powder
BC Dairy Association The Original Protein Powder: skim milk powder
Archives of Agriculture and Agri-food Canada Skim Milk Powder (1981)
---
Emergency Food Shelf
An emergency food shelf is a good idea if you have trouble making your money last to buy food every week. It is also a good idea for people who can't always get out to the store.
Stock your emergency food shelf with foods that keep well and do not need to be stored in the refrigerator.
Store the dry food in sealed jars or plastic containers. You can use clean coffee cans, ice cream and margarine containers. Label the containers with food name and the date.
If you need to use items, replace them the next time you go shopping so they are on the shelf when you need them again.
Try to use and replace your emergency food items within one year so
they don't sit on the shelf for too long (be sure to check the best before date).
Using the list of kitchen staples above, create an emergency food shelf. Substitute the frozen vegetables and fruit for canned options and leave out anything that has to be refrigerated (i.e. eggs).
Read these articles next:
Understanding Food Labels
Comparing Prices and Promotions