Community kitchens are a welcoming place where individuals gather to prepare and cook meals together. They are more than just a place to cook. They are a place to share ideas, try new flavours, build important food skills and connect with others.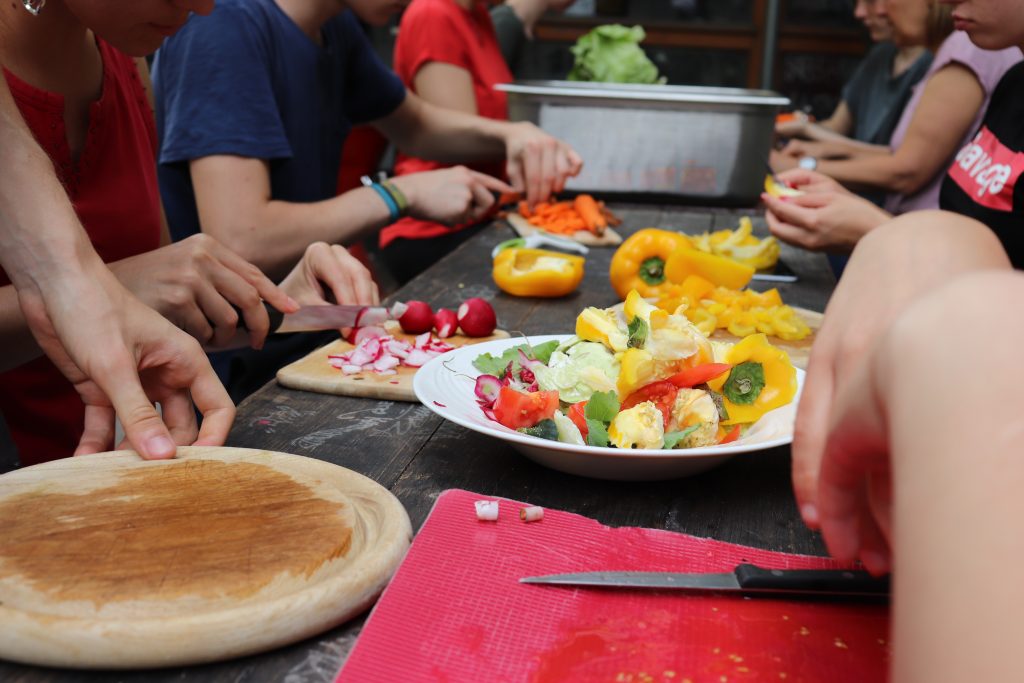 Participants generally share in the planning, purchasing, preparing and cooking of foods. There is a set of kitchen rules made by the organizer that are based on the needs of the group. Often community kitchens are set up in order to help members save money by producing more food than they could individually, and saving through buying larger quantities of ingredients that can be divided among the group. Community kitchens are not soup kitchens. They are used by people who want to connect with others in their community, learn new food skills, try different foods and make new friends who enjoy cooking.
Many communities in Manitoba have community kitchens. Check if they have a cooking club or an organized group to join. For a full list of kitchens and contacts, visit the Government of Manitoba Commercial Community Kitchens page. You can also search Community/Collective kitchens in your area on mb.211.ca. If you live in the City of Winnipeg, there are community kitchens located in some of the resource centres (for example West Central Women's Centre, NorWest Co-op) and there are also local churches which host community cooking space.
You may not have an organized community kitchen program in your area, but if you are interested in setting up a group that cooks together, the following resource will be helpful:
There are many benefits to a community kitchen.
Lean new food skills from others
Learn how to make healthy meals on a budget
Experiment with new food flavours and cuisines
Bring home nutritious meals to family
Increase confidence in the kitchen and a sense of accomplishment by working as a team
Save money by buying larger quantities together and splitting the cost
Cook larger quantities of food at one time
Make new friends who share the love of food
Build a stronger community of support
Check with your local community resource centre to see if there is a group near you.
Read these articles next:
Embracing Cultural Traditions
Cooking with Manitoba Foods