By: Getty Stewart, PHEc, B.Ed., Author of Prairie Fruit Cookbook and www.GettyStewart.com
Rhubarb heralds the arrival of spring. For many of us Northern gardeners, it is the first produce we can pick from the garden. This hardy plant, often referred to as the pie plant, produces lovely edible stalks that range in color from lime green to cherry red.
Here's a little True and False quiz to test your rhubarb knowledge.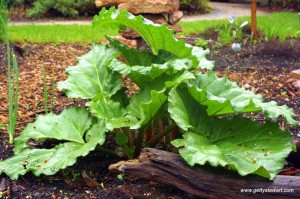 Rhubarb is a fruit. T or F?
While we use it like a fruit in pies and crisps, rhubarb is actually not a fruit. A fruit is the fleshy part of a plant that comes from a flower and surrounds a seed. We use the stalks of the rhubarb plant, much like the stalks of celery. Technically, rhubarb is a vegetable. False.
Rhubarb leaves should never be eaten. T or F?
Rhubarb leaves are toxic and should never be eaten. The US National Library of Medicine lists oxalic acid and anthraquinone glycosides as the most likely toxic ingredients. Eating rhubarb leaves may cause a burning sensation in your mouth and throat, difficulty breathing, diarrhea, eye pain, nausea, stomach pain, vomiting and weakness. More seriously, you may develop kidney stones, seizures, go into a coma or even die. Deaths rarely occur as you would have to ingest a considerable amount of leaves. True.
Because the leaves are poisonous you should not compost rhubarb leaves. T or F?
It is safe to compost rhubarb leaves. Iowa State University's Horticulture News states rhubarb leaves are safe to compost despite their poisonous content. False
Color of the stalk is the best way to determine if rhubarb is ready to harvest. T or F?
Color is simply an indication of the variety of rhubarb, not whether it is ready to harvest. Some rhubarb never turns red, so don't wait! Use size as the best indicator. When stalks are about 7-15 inches (20-40 cm) long they're ready to harvest. The width of the stems will vary. False
The best time to harvest rhubarb is spring time. T or F?
Spring is the best time to harvest rhubarb. To harvest, slide your hand to the bottom of the stalk, twist slightly and pull. The stalk should come out quite easily. Be sure to leave 1/3 of the leaves so the plant can nourish itself throughout the season. Seed stalks will form in the summer, these can be cut to extend the harvesting season. You may pick a few stalks in summer and fall – leave 2/3 of the leaves on. True

Rhubarb is so tart, nobody would want it. T or F?
People adore the tart, refreshing taste of rhubarb. If you or a neighbour have rhubarb that you're not using, consider sharing it with a local fruit rescuing organization such as Fruit Share. Volunteers will pick your rhubarb and share it with community organizations who will put your surplus produce to good use. Or, offer your rhubarb to a friend – you might get a tasty surprise in return. False
Rhubarb is only good for rhubarb pie and rhubarb crisp. T or F?
While rhubarb pie and rhubarb crisp are among the favorite ways to eat rhubarb, there are hundreds of recipes and many different ways to use rhubarb. Here are just a few recipes to get you started! Find more recipes in the Prairie Fruit Cookbook and at www.gettystewart.com.
Strawberry Rhubarb Freezer Jam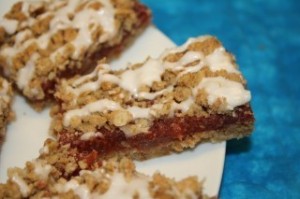 Getty Stewart is an engaging speaker and writer providing tasty recipes, time-saving tips, and helpful kitchen ideas. She is a Professional Home Economist, author of Manitoba's best-selling Prairie Fruit Cookbook, Founder of Fruit Share, mom and veggie gardener. For more articles, recipes and tips on Making Home Cooking Easy and Enjoyable visit her blog at www.gettystewart.com.
Funding for this article provided by the Canadian Home Economics Foundation.

Updated October 2020