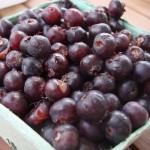 Wild saskatoons have been eaten on the prairies for centuries. First Nations people used them extensively in the preparation of pemmican and the early settlers found them a welcome treat. They contributed significantly to the Vitamin C requirements of these early Canadians.
As agriculture land was cleared and urban areas sprawled, many of the growing areas were destroyed and now only a lucky few can still find a good crop of saskatoons. A small commercial saskatoon industry is developing and shows great promise as interest increases in this native fruit. Improved strains for commercial production have been developed at the agricultural research stations.
The saskatoon shrub or tree grows about 4 m (12 ft) high and bears masses of white blossoms in the spring. The fruit is borne in clusters of 6 to 12 and is usually blue-purple, but colours range from cream through black. The fruit ranges in size from 1/4 to 3/8″ (0.6 – 1.0 cm) in the wild, to 5/8 inch (1.6 cm) in some varieties under cultivation.
Saskatoons vary in sweetness, size and moisture content according to conditions of the season, the state of maturity and variety. The fruit becomes sweeter as it ripens and fruit that is barely ripe is best for jams and jellies.
Saskatoons are naturally quite sweet and so require little additional sugar. Fresh saskatoons are probably best served with cream or eaten out of hand; however, saskatoon pie brings back fond memories for those that grew up in areas where saskatoons were once plentiful!
Most saskatoon recipes have been handed down through generations and some of these old time favourites are included. Because blueberries and saskatoons are quite similar, saskatoons can be substituted in any recipe that calls for blueberries. Saskatoons freeze very well and partially thawed fruit can be treated as fresh in any of the following recipes
Saskatoon Sauce
Try this sauce on ice cream, plain yogurt, waffles, pancakes, gingerbread, plain cakes, custard or lemon snow.
| | | |
| --- | --- | --- |
| 2 cups | saskatoons | 500 mL |
| 1 cup | water | 250 mL |
| 2 tbsp | cornstarch | 30 mL |
| 3/4 cup | sugar | 175 mL |
| | juice of 1 or 2 lemons | |
Place saskatoons in saucepan with water and bring to boil. Simmer 5 minutes. Blend cornstarch and sugar, add slowly to saskatoons and boil until thick and clear. Add lemon juice and cool. Makes 2 1/3 cups (575 mL)
Lemony Saskatoon Muffins
A light muffin filled with purple saskatoons and topped with lemon and sugar.
| | | |
| --- | --- | --- |
| 1 1/2 cups | all purpose flour | 375 mL |
| 1/2 cup | granulated sugar | 125 mL |
| 2 1/2 tsps | baking powder | 12 mL |
| 1/4 tsp | salt | 1 mL |
| 1/4 tsp | nutmeg | 1 mL |
| 1 cup | saskatoons | 250 mL |
| 1 | egg | |
| 1/4 cup | vegetable oil | 50 mL |
| 3/4 cup | milk | 175 mL |
| | | |
| Topping: | | |
| 1 tbsp | lemon rind | 15 mL |
| 2 tbsps | granulated sugar | 25 mL |