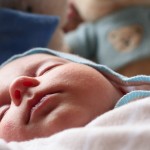 Getting ready to welcome a new baby into your life is an exciting time, thank goodness you have nine months to prepare! Purchasing and borrowing all of the equipment, clothing and supplies for your first baby can be a daunting task. The selection in the stores can be overwhelming, making it easy to succumb to purchasing many more items for baby than originally planned. The experience of other parents can help provide some guidance in this area, as well as some research and careful list making. The following is a list of supplies you will need or may consider for your new baby, and tips on making your shopping expedition budget wise.
BEFORE YOU HEAD TO THE STORE:
Some planning and research will enable you to keep on track with your purchases, stay within your budget, and make sound consumer decisions when confronted with a variety of choices. Here are some tips to consider before you even leave your house.
Set a budget. It is easy to overspend, especially on a first born. Determine needs versus wants and keep in mind, you will pay a higher price for aesthetics.
Make a shopping list. A well thought out shopping list will allow you to keep on track with your purchases. Some items will not need to be purchased right away, such as a highchair, stroller, advanced baby toys, etc. so hold off on them until needed. Head to the library to consult parenting magazines, consumer reports etc. to research best buys. When making your shopping list, keep your lifestyle and space limitations under consideration. A baby carrier or sling in which baby is kept close to your body and requires next to no storage space may have more appeal than a stroller.
Talk to the experts & other parents. Some items such as baby swings, bouncers, and baby carriers/backpacks can be considered more want than need. Talk to other parents to get their opinions on the usefulness of these items, special features to look for, and durability. Items that will be used for only a short period of time by baby are often a better bet to borrow or purchase used.
Determine what can be borrowed. When offered baby items on loan, say "yes!" On items such as cribs, high chairs, and car seats, always check with the manufacturer for product recalls. If these items are over 10 years old, do not use as safety standards do change (see "Children's Car Seats" under Consumer Smarts).
Don't cut off the price tags. Keep original tagging on clothing and save all receipts, packaging, and manuals. The clothing you purchased may end up too small or too large for baby and will need to be returned. Always inquire about the retailer's return policy BEFORE purchasing.
Do shop when you have the energy. Avoid leaving your shopping to the last few months as this is generally a time when energy levels begin to wane.
Baby Clothes:
The following is a list for a basic baby layette. Depending upon how often laundry will be done, you may opt to purchase the maximum amount to allow ample clean clothing between laundry days. Although there is no standard sizing in children's wear, infant garments will often include weight and height ranges as well as the age. For newborns, purchasing a few items in the 0 to 3 month size and the remaining in the 3 to 6 month size is generally recommended as babies grow quickly.
3-6 one-piece sleepers with feet
4-6 cotton knit undershirts
1 cap or hat (depending upon season)
2-3 pairs booties or socks
3-6 pairs waterproof pants (if using cloth diapers)
3-6 rompers (one piece outfits that snap at the crotch)
1-3 sweaters
Tip: An undershirt with a bottom that snaps to the bodice will not ride up and will keep baby's tummy warm.
Shopping Hints:
When purchasing baby clothing, baby's comfort should come first over aesthetics. Breathable fabrics, such as cotton or blends with a higher percentage of cotton, are more comfortable for baby, especially during the summer time. Also look for fabrics with a soft hand and no scratchy seams or trim, and garments with undefined waistbands for comfort.
Knitted fabrics provide unrestricted movement for baby, will generally retain their shape, and do not need ironing.
Ease of dressing is another feature to look for. Sleepers with zippers make diaper changing quicker while garments with snaps or buttons that open in the back are more difficult to dress. Snaps in the crotch area also make diaper changing easier.
Look for garments that have large neck openings or snaps at the neck area. Avoid garments with tight bands or tight elastic around the wrist, body or arms.
Avoid garment with buttons, long strings and ribbons as these can become choking hazards. Long strings and ribbons may also become entangled around babies fingers, cutting off circulation.
Linen Layette:
3-6 flannel receiving blankets
2-3 fitted crib sheets
2-3 crib blankets (waffle weave, fleece or soft quilted)
2-3 waterproof changing pads
1 waterproof mattress pad
bumper pads for crib (should be washable)
3-4 soft baby wash cloths
diaper liners (if using cloth diapers)
2-5 dozen cloth diapers
Furniture and Equipment:
Many of the following items can be borrowed or purchased second hand. With the crib and car seat carrier, ensure that these items are no more than 10 years old and be sure to contact the manufacturer prior to purchasing or borrowing regarding any recalls.
Baby Moses basket, cradle or bassinet (if baby will not be sharing your bed or sleeping immediately in a crib)
Crib*
Crib mattress*
Car seat carrier
Changing table, or dresser that is wide and high enough to comfortably change baby
Changing pad with safety straps to secure baby while changing
Dresser
Comfortable chair for nursing or feeding baby
Lamp or night light
*Depending upon the manufacturer, you may have to wait for delivery of the crib you have selected. If selecting a crib that is carried in stock by the retailer, you can hold off on this purchase until you are ready to move baby into the crib.
Changing Supplies:
As you will often be changing baby in more than one area of your house, it helps to have a set of changing supplies in the baby's room as well as one in a portable container such as a basket.
Petroleum jelly
Rubbing alcohol (for umbilical cord care)
Q-tips
Diapers (newborn size & size 1)
Baby wipes or baby washcloths
Antibiotic ointment & gauze pad (for circumcision)
Changing pad
Extra diaper shirt
Diaper rash ointment
Diaper pail
Tip: Even if you will be using disposable diapers, purchasing a dozen cloth diapers is an inexpensive alternative to use as burp cloths and protect sheets when baby spits up.
Feeding Supplies:
As with the changing supplies, you may find that you are feeding baby in more than one area of the house. An extra set of supplies kept in a portable container will make feeding more convenient.
Pillow (to support baby)
Nursing pads (if nursing)
Nipple cream (lanolin based, if nursing)
Burp cloths or square cloth diapers (inexpensive alternative to burp cloths)
Tissues
Book, clock (if desired)
Baby nail clippers or blunt edged scissors (a good time to trim the nails)
If bottle feeding:
(4) 4 oz bottles and (10-12) 8 oz bottles with nipple units
If using a breast pump:
Plastic bottles (for storing pumped milk)
Breast pump (can be borrowed, purchased or rented)
Bathing Supplies:
Until baby's umbilical cord falls off, generally 5-7 days after birth, a sponge bath will be the preferred method of bathing.
Baby bathtub (if desired)
Hand towel or flannel receiving blanket
Baby wash cloths
Baby soap
Soft towel
Baby brush or comb
Cotton balls (for cleaning eyes)
Petroleum jelly or baby lotion
Tip: Liquid baby soap in a pump container provides ease of use and no messy storage.
Medicine Chest:
As illness can strike at anytime of the day, it helps to be prepared. The following is a list of items to have in your medicine chest for baby. Be sure to store items in a childproof container and out of reach of baby.
Infant acetaminophen drops (such as Tylenol or Tempra)
Antiseptic cream (such as bactracin or neomycin)
Sterile bandages in various sizes
Nasal aspirator
Thermometer (include spare batteries if using a digital thermometer)
Cold mist vaporizer or humidifier (hot steam humidifiers are not recommended as they can cause burns)
Nice to Have:
These are not essential items but sometimes can be a great help to parents. Be sure to talk to other parents and get their opinion on the usefulness of the following items. If possible, borrowing these items can be a real budget saver.
Baby swing
Baby carrier
Mobile with music
Baby monitor
Playpen
Stroller
And don't forget about Mom:
If you will be breastfeeding baby, the following will be helpful items to have on hand:
Nursing bras (purchase during the eighth month when you will be closest to your nursing size)
Front opening pajamas
 As mentioned earlier, it is easy to overspend on a new baby. Keep in mind that the best things you can give a baby are love, warmth and security. Perhaps putting some of the money earmarked for welcoming your new baby home may be better put towards saving for their future education (see "Registered Educational Savings Plans" under Money Matters), or spent on items that will help make the transition period easier on you. Services such as housekeeping, laundry, and grocery delivery will allow you more time for rest and time with your baby.
For safety information on items such as strollers, cribs, car seats, change tables, toys, pacifiers, purchasing second hand items, etc., visit the Health Canada website at www.hc-sc.gc.ca to receive a copy of "Is Your Child Safe?"
By Jill Kartushyn, Home Economist