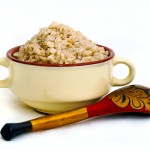 Your memories of oatmeal may include a steaming bowl of brown sugar flecked goodness with cream or maybe a gummy paste you wished you had missed. Regardless of your memory of oatmeal, oats are not just a breakfast cereal anymore.
Oatmeal comes from oats (Avena sativa), a cereal grain grown in North America since the 1600s. Canada has produced nutritious high quality oats for decades and agricultural statistics show Canada produced more than 5 million tonnes in 2007. Did you know that Saskatchewan, Alberta, Manitoba, and British Columbia are our main oat producers? Although oats are grown mainly for livestock feed (cattle and horses), more and more people are eating them.
Oats are a health food with many non-food uses as well. Besides classic porridge, oats are an ingredient in beverages, snack bars, flour, beer, ice cream, and beauty products. In home kitchens, we use oatmeal (rolled oats) in meatloaf, cookies, and granola. Oatmeal is even a facial cleanser. Oats have come a long way from animal fodder!
A high fibre grain low in fat, sugar, and sodium, oats are heart healthy and fit well with recommendations in Canada's Food Guide. Soluble fibre in oats helps lower bad cholesterol and insoluble fibre helps prevent constipation. Oats give energy, protein and important vitamins and minerals like folate, calcium, and iron. As part of overall healthy food choices, oats help prevent and manage diabetes and heart disease, and help with weight control.
If you are not an oatmeal eater, try adding rolled oats in other recipes to gain the health benefits. This vegetable and oat recipe uses common garden vegetables. Use your garden vegetable harvest or any in-season fall vegetables of your choice for a hearty healthy "oat" meal.
Seasonal Vegetable Roast with Oats
| | | |
| --- | --- | --- |
| Vegetable Mix: | | |
| 2 tbsp | oil | 25 mL |
| 1 1/2 cups | each diced yam (peeled), zucchini and red pepper | 375 mL |
| 1/2 | red onion, chopped | 1/2 |
| 1/2 cup | chicken broth | 125 mL |
| | sprigs fresh parsley, chopped | |
| | salt and pepper to taste | |
| | | |
| Topping Mix: | | |
| 1/3 cup | whole wheat flour | 100 mL |
| 2 tbsp | oil | 25 mL |
| 1/3 cup | grated Parmesan cheese | 100 mL |
| 1 tsp | rosemary | 5 mL |
| 1/2 cup | large flake oatmeal | 125 mL |
| 1 | egg | 1 |
| | salt and pepper to taste | |
Preheat oven to 375°F (190°C). In large pan, heat oil. Sauté yams until golden brown and almost tender, about 5 minutes. Add other vegetables, salt, and pepper – sauté for another 3 minutes until red pepper is just soft. Add chicken broth and parsley, reduce heat, and simmer 5 minutes.
Whisk egg white in a small bowl until frothy; add oats and toss to coat. In another bowl, mix flour, oil, cheese, rosemary, salt, and pepper. Add oat mixture to flour mixture and mix. Put vegetables in an 8-inch baking dish and sprinkle oat mix over top. Bake to golden and crisp, about 15-20 minutes.
Yield: 6 servings.
WRTTEN BY THE PUBLIC HEALTH NUTRITIONISTS OF SASKATCHEWAN AND SUPPORTED BY
Originator: Jadwiga Dolega-Cieszkowski Heartland Health Region
Reviewer: Jennifer Miller Prairie North Health Region
References:
Agriculture and Agri-Food Canada, www.agr.gc.ca.
American Dietetic Association, www.eatright.org.
Canadian Grain Commission, www.grainscanada.gc.ca.
Dietitians of Canada Fact Sheets, "What is Fibre and Why is it Good for me?", www.dietitians.ca.
"EatTM Celebrating the food and drink of British Columbia", www.eatmagazine.ca.
Food and Agriculture Organization, www.fao.org.
Quaker, www.quakeroats.com.
"Seasonal Vegetable Roast with Quaker Oats", www.christinecushing.com.
Singbeil, K., "Breakfast of Champions: The Revival of Oatmeal Stout".