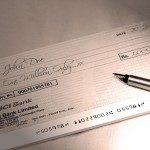 Just mail us the money and we'll send you your prize. That's the bait that hooks many Canadians on sweepstakes scams, and unfortunately it's often seniors who are the targets. Scam artists are masters at convincing people to send them money in order to claim their prize.
The Canada Revenue Agency (CRA) is reminding seniors this fall to beware of anyone offering them prize money with strings attached. You do not have to pay any taxes or fees on any kind of lottery and sweepstakes winnings in Canada. Any unsolicited e-mail, letter or phone call telling you otherwise is a scam.
Do not, under any circumstances, send money to someone making such a pitch to you. Instead, immediately contact your local police department or detachment of the Royal Canadian Mounted Police.
You should also never respond to a request for funds or confidential information without first confirming the identity of the person requesting the information, and assuring yourself that the person is legally permitted to make the request.
Seniors can sometimes fall victim to these scams because of their limited retirement income, their desire to give money to their children or grandchildren, or because, in some cases, they have no trusted advisors close by. All of these factors make seniors more vulnerable to sweepstakes scams.
Tips to avoid sweepstakes scams
Here are some questions to ask to avoid being scammed:
Does the letter or e-mail have typos, spelling or grammatical errors?
Does the letterhead look out of focus or unclear?
Are you being asked to pay taxes allegedly owed to the Canada Revenue Agency by making a deposit into a bank account registered to an individual?
Still not sure? Call the CRA at 1-800-959-8281 to find out whether the letter or e-mail is legitimate.
The CRA has very strict rules about the way it communicates with taxpayers. Taxpayers should be suspicious of anything that does not look like an official Government of Canada document. And remember, any debts or fees you might owe legitimately are always payable to the Receiver General of Canada.
The CRA has a lot of useful information and tips on how to recognize such scams on the Taxpayer Alert section of their Web site at cra.gc.ca/alert or call the agency's toll-free number at 1-800-959-8281. – (NC)
– From News Canada