By Jennifer Dyck, PHEc
Well it has been a month since I told you that I was Tofu Terrified. On my next grocery trip when I passed that tofu section I stopped, did some yoga breathing and filled my cart with all things tofu and even a carton of soy based beverage. Yes, I did it – I went from Tofu Terrified to Tofu Terrific!
My family and I all survived my tofu experiments and we collectively decided to make tofu and soy products a regular part of our diets.
Since variety is my chosen spice for life, we now buy on a regular basis; soft, medium-firm and extra-firm tofu as well as original soy beverage (not low-fat or flavoured).
You want to buy the full fat soy beverage so that you get the nutrients from the fat and it's also less processed. I bought the wrong one on shopping trip numero uno but have since switched. Oh and I forgot to mention edamame beans. Those were a favourite on Wendy's list in What We're Lovin' Feb my family loves them too.
I've been adding the soft tofu to my daily smoothie. I find that it fills me for longer and adds a great texture to the drink. I personally don't notice a difference in taste because I jam in so much fruit that the natural sweetness from the fruit takes over. I have also used the soy beverage in my smoothies and love it!
My favourite meal is tofu scramble. This came about in a conversation with Phyllis, Life Coach and Dietitian. I was telling her how I'm always starving mid morning and need a snack. This is fine if I'm at home or I've packed healthy options when on the go but life is busy and sometimes I need to make it all the way to lunch.
When I have tofu scramble for breakfast I can easily make it snack free until lunch. Phyllis shared her recipe with me and I made a few adjustments to suite my taste buds. It all starts with a package of medium-firm tofu.
Remove the tofu from the package and set aside to drain. Here is mine.
This is how easily it crumbles. It has a soft, smooth texture.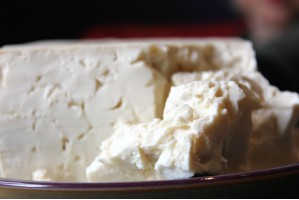 Next I heat 1 Tbsp of canola oil in a frying pan. When it is up to temperature I add sliced cremini mushrooms and a small sliced onion. When the mushrooms and onion start to brown I add a clove of minced garlic and let it cook for about 1 minute. Next comes the tofu – I crumble the full package of drained, medium-firm tofu into the pan and add a crack of pepper. Shown here: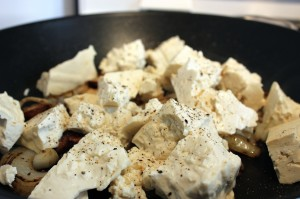 Next I mix and mash this around until I like the size of the tofu pieces. This allows water from the tofu to steam off and for the tofu to heat through. You could serve it up like this or if you are at my house we always add a shake or two of Worcestershire sauce, mix one final time and serve!
I eat mine on a slice of whole grain bread, toasted. On this particular day I had some delicious New Bothwell Gouda cheese and cilantro in the fridge so I made it into a gourmet tofu open faced sandwich. Yum!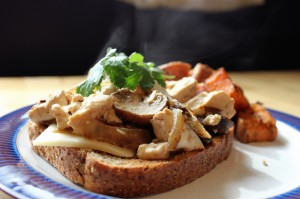 This is the assortment of soy based products I bought on shopping trip numero uno!
And because I cook and bake for my health but also for my family…here is a photo of my little guy chowing down on sliced, cold extra-firm tofu. He loves it. I will share this recipe experiment later! I had some great little helpers!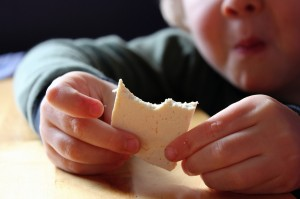 My hope is that you are inspired to try something new. It might not be tofu or even a new food but I hope you find opportunity in whatever might stop you in your tracks. I did and it sure is a fun ride!
If you're looking for a dinner meal option using tofu – Be sure to read Tofu terrified for Mairlyn Smith's tofu stirfry recipe. We tried it and loved it! Thanks Mairlyn for sharing!
Be Well… Jenn
********************************
Originally posted on canolaeatwell.com, a blog for Manitoba Canola Growers.
Jennifer Dyck is a Winnipeg-based Professional Home Economist, mom of 2, avid baker and passionate about yoga.  She works with the Manitoba Canola Growers in education and promotion and blogs for Eat Well, a blog dedicated to recipes and articles from experts to keep your mind, body and soul working at its best.
Updated October 2020