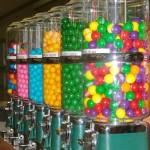 Are healthy foods available at your workplace? Or are the only choices the high fat, high sugar, high salt foods often sold in vending machines and cafeterias? Many Canadians spend a lot of time at work. In Saskatchewan, people spend an average of nine hours per day at their workplace. With so much time spent in the workplace, employees are bound to eat one, if not two or more meals and snacks at work.
To support a healthier work setting workplaces can create a healthy food policy. Healthy workplaces can lead to increased employee morale, productivity and job satisfaction. To begin, it may be useful to form a committee of interested parties. Invite staff at all levels including management. It may be helpful to create a vision statement and clearly identify the goals and objectives of the policy. Your committee can conduct a survey to assess the current situation and to pool ideas or suggestions.
There are many ways the workplace can support healthy eating:
Talk with your employer about offering healthy options in the vending machines and cafeteria.
New food products can be tested or sold on a trial basis. Do not forget to advertise and promote these new items.
A healthy food policy could ensure the nutrient rich choices are provided at the same or at a lower cost than the nutrient poor choices.
Many workplaces provide a refrigerator, microwave and a sink so workers can bring meals from home.
You can request that healthy food and beverage choices to be available at meetings or at company-catered meals. Discuss how often you celebrate special occasions, and what is served there.
How is food used for fundraising, and does it support healthy eating in your workplace?
Use Eating Well with Canada's Food Guide to plan your healthy food policy – it's a useful tool. Key points to include are:
Choose a variety of foods.
Include vegetables and fruits.
Choose whole grain breads and cereals.
Choose lower fat dairy products, lean meats and food prepared with minimal fat.
Limit salt.
Once your workplace develops a healthy food policy, be sure to make the whole workplace aware of it. Put an article in the company newsletter, put up posters, include a note with each paycheck or send an email. Use a few different methods to ensure everyone is aware of the policy.
By creating a workplace healthy food policy, you can help support everyone at work. Education about nutrition is often not enough to support the healthy eating habits of employees. A more complete approach to healthy eating in the workplace includes education, but also addresses the "food" environment. When supportive policies are in place, it is easier to make healthy choices.
For assistance in getting started on healthy food choices at your workplace, contact your Public Health Nutritionist.
WRITTEN BY THE PUBLIC HEALTH NUTRITIONISTS OF SASKATCHEWAN
Originator: Jillian Moskal, for Heather McAvoy, Prince Albert Parkland Health Region
References:
Canadian Centre for Occupational Health and Safety, "Healthy Eating at Work", www.ccohs.ca/.
Health Canada, Eating Well with Canada's Food Guide, 2007.
Regina Qu'Appelle Health Region, Support Healthy Eating at Work: Create a Healthy Food Policy.
Statistics Canada, "General Social Survey on Time Use: Overview of the Time Use of Canadians", www.statcan.ca/.