We're back for another instalment of our MAHE Board Member Interview series. Today we're talking with Debora Durnin-Richards the Liaison for Farm to School & Fruit Share.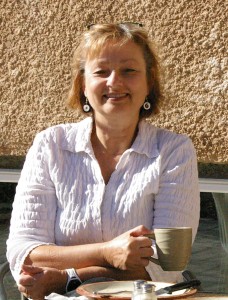 ---
Who are you and what do you do?
I am a Professional Home Economist currently working as the Chief Administrative Officer for our family renovation company – Kuypers Lane Creations. I also do consulting work when the topic and timing are suited to my schedule and lifestyle. So at present I am a member of the Agri-Food Research and Development Initiative Committee. Our work is to analyze scientific research applications and make recommendations for funding under the Growing Forward research and innovation programming. I am also working on a contract with the Province to assist the 2015 Rural Veterinary Task Force Committee. Their task is to review the current and future needs for veterinary services in rural Manitoba and to make recommendations to the provincial government regarding programming and funding.
I am married with two adult daughters. I love to host gatherings of family and friends around a dinner, bar-b-que, games night or home concert. My husband and I love to travel as well as enjoy the nature and pleasure of our home, yard and gardens.
How long have you been a MAHE member?
I have been a member of our home economics profession since I graduated and became a member of MAHE when it was first organized and recognized under The Professional Home Economists Act some 20+ years ago.
What do you enjoy most about being a MAHE member?
I love using the PHEc – the professional designation. It gives me a sense of pride and accomplishment. Because of my work with MAHE over the years, I have also had many, many opportunities to describe, explain and discuss the profession of home economics. Being an active member, I really enjoy the interaction with other professionals at meetings, programs, events and celebrations.
What piece of advice could you offer to new PHEc's or IPHE's?
The practice of Home Economics is a much needed approach in today's society. Home Economics/Human Ecology approaches individuals, families and society with an holistic view to goal setting and problem solving. Your job title does not have to be 'Home Economist' or 'Human Ecologist'. The practice is relevant in almost any social enterprise, organization or arm of government. As a graduate, you can use your education and the home economics practice to promote your employment and career. Don't be afraid to do so.
If you're looking for more, please check our our last interview with Melissa Gabbs, Director of Public Relations.