We're back for another instalment of our MAHE Board Member Interview series. Today we're talking with Vice President, Sheila Stark-Perreault.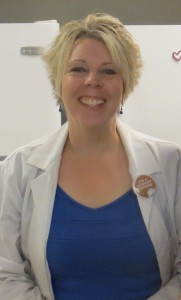 ---
Who are you and what do you do?
Hello my name is Sheila Stark-Perreault. I am a Human Ecology Specialist with over 20 years of teaching experience. I currently teach grades 5 through 9 at East Selkirk Middle School in the Lord Selkirk School Division. Every day brings new accomplishments and challenges. There is NEVER a dull moment in middle school!
How long have you been a MAHE Member?
I have been a MAHE member for about 20 years now. I have always served as an active practicing member and have held many different provincial executive and board positions. I am currently in the role of secretary and awards chair. I also work with the PR committee and helped coordinate our past MAHE conference.
What do you enjoy most about being a MAHE member?
I really enjoy the opportunity to network with colleagues who share similar interests. It has served me well in many aspects of my life. Many have come as guests to my classroom sharing knowledge and demonstrating skills to my students. Others I have worked with on various committees – planning and organizing conferences, events and projects for the betterment of our own members. Many have become more like family as we have shared board and executive responsibilities to keep our professional organization running. New opportunities have opened doors for me too through my involvement with Breakfast Television and helping develop the new middle years Curriculum. Through my involvement with MAHE, I continue to grow and develop both personally and professionally.
What piece of advice could you offer to new PHEc's or IPHE's?
My words of wisdom would say GET INVOLVED in anyway you are able. Attend any upcoming MAHE events or workshops and get your mentor to introduce you to other IPHE members and new PHEc's. If you have a bit more time join a committee or offer to share your own talents or area of expertise for an upcoming event or workshop. For more involvement come as a guest to one of our provincial board or executive meetings either in person or through a conference call. Do not hesitate to participate with small, medium or larger efforts. Every effort will count! Whenever you are at a MAHE outing, please introduce yourself to me. It would be my pleasure to get to know you.
For more, please check out our past interview with Debora Durnin-Richards.