By Melodie Ho, RD
Living on the Prairies is more often associated with the cold and seemingly never-ending winters than it is the sunny, hot summers that come and go in the blink of an eye. So, understandably, at the first glimpse of summer, the natural reaction is to take advantage of everything this warm season offers. Whether it be enjoying great food on a patio, sun-bathing at the beach or holding up all summer long at the cabin, Manitobans know how to enjoy summer.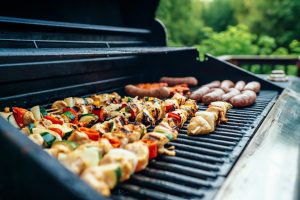 When planning all of these fun summer activities, food often plays a key role in making them special. What would an afternoon stroll on the boardwalk be without an ice cream cone in hand? How can a backyard barbecue be enjoyable for guests without the barbecued food? Fresh, delicious foods are a great way to bring people together and create memories and connections with loved ones. One quality that often gets overlooked is that many wonderful foods and ingredients enjoyed each and every summer are actually grown and produced locally on the Prairies.
With such a dedicated community of farmers and producers, it's no wonder that Manitoba summers are filled with some of the best tasting foods made with a variety of local ingredients. From plump tomatoes topping off a grilled chicken burger or juicy blueberries baked into a warm berry cobbler, locally inspired dishes can bring so much joy to everyone in the community, from the farm to the dinner table. It's the beautiful connection to the person behind the high-quality food that makes mealtime that much more meaningful.
What are some of the simplest ways to get the most out of summer, the best season for local foods?
Scope out farmer's markets, produce stands and other seasonal outlets for local foods, ingredients and preserves
Look at the labels on food products to see if they're a product of Manitoba or keep an eye out for "locally grown" signage at the grocery store
Connect with local farmers to find out where you can buy their foods such as seasonal produce, cheeses and honey; many retailers are proud to carry foods produced right in Manitoba
Visit a local "u-pick" fruit farm for a hands-on experience and connection with the land
Sip on a refreshing beer at a local brewery while enjoying a meal on the patio
As the summer days count down, it's easy to get caught up in the excitement of pool parties, barbecues and picnics at the park. The hot sun, outdoor seating and fun in the water are what the season is all about. But it's important to take the time to reflect on the wonderful food and where it's coming from to really appreciate what summer has to offer.
Melodie Ho is a Registered Dietitian in Manitoba. She is the Program Coordinator for the Farm to School Manitoba Healthy Choice Fundraiser program. Melodie has a strong passion for the farm to table movement and its positive impact on local farmers and producers, the local economy and sustainable agriculture.