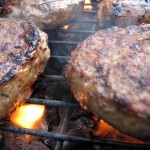 A new naming system for beef cuts has taken some of the guesswork out of buying and cooking beef. Many people in the beef industry are wondering why we didn't start doing this long ago says Joan Perrin of the Saskatchewan Beef Information Centre. The system which incorporates the cooking method into the cut name was launched on a voluntary basis in February, 1998.
The system includes:
New cut names, which incorporate the cooking method into the anatomical name.
Cooking instructions on every package.
A meat counter layout based on cooking methods.
How the System was Developed
The new system was developed because industry research showed most shoppers under 25 have less cooking knowledge than previous generations. And the three main criteria used by consumers to select beef were fat content, price and colour. Those criteria don't ensure eating quality because some knowledge of cuts is required to determine tenderness. As a result a consumer could pick up a steak for grilling which actually required marinating or simmering to make it tender.
Using this background information as a starting point a committee made up of government, industry and consumer groups, commissioned a cross Canada study.
Five different systems were tested by consumer focus groups before the new system incorporating the cooking method into the cut name was selected.
Indications of Success
Perrin says most retail chains have at least adopted the meat label and some have started putting cooking methods on each label and organizing the meat counter according to cooking methods.
The benefits of adopting all three elements are illustrated by the results realized by the retail chain involved in the pilot project for the program, she says. The chain has been using the complete system for about a year and has seen beef sales rise and a greater variety of cuts purchased – not just the expensive prime cuts. Contrary to the usual consumption pattern, the pilot chain sold more roasts in the summer than in the winter. "Managers in small towns are ecstatic." Perrin says.
Another indication of the success of the project is the adoption of a similar system by the pork industry. The Beef Information Centre has also received inquiries from American retailers who plan to implement the system in the U.S. Consulting companies have called about it from as far away as New Zealand.
Along with the new naming system there are new instructions for oven roasting round, sirloin tip and rump roasts. See Oven Roasting in the cooking instructions boxes below and download them for easy reference in case your retailer hasn't included cooking instructions on the package.
Check Aging Policy
In addition to checking the labelling information ask your retailer about store policy on aging (the length of time beef cuts are stored under controlled humidity and temperature before packaging). This process allows naturally occurring enzymes within the meat to slowly break down some of the connective tissues which contribute to toughness. Aging times vary from 3-21 days. For the best eating quality the Beef Information Centre suggests looking for beef aged 10-14 days.
Buying and Storing Meat
Buy meat at the end of your shopping trip and get it home and into the fridge or freezer as soon as possible.
| | | |
| --- | --- | --- |
| | Storage Times | |
| CUT | REFRIGERATOR | FREEZER |
| Variety/organ meats | 1-2 days | 3-4 months |
| Stewing beef/ ground meats | 2 days | 3-6 months |
| Steaks/roasts | 3 days | 6-12 months |
| Leftover cooked beef | 3-4 days | 2-3 months |
Some newer types of packaging allow longer storage times indicated on "Best Before dates." Be sure to use proper freezer paper if freezing product for extended periods.
New Terminology and Cooking Methods for Beef
Perplexed by pot roasts? Maddened by marinades? The new terminology for beef cuts and accompanying cooking guidelines will help you keep selections straight and separate the tough from the tender.
Category
New names incorporating cooking method
Premium oven roast
Prime rib premium oven roast
Tenderloin premium oven roast
Sirloin premium oven roast
Oven roast
Rump oven roast
Eye of round oven roast
Inside round oven roast
Outside round oven roast
Sirloin tip oven roast
Pot roast
Cross rib pot roast
Short rib pot roast
Blade pot roast
Shoulder pot roast
Brisket pot roast
Grilling steak
Prime rib grilling steak
Rib eye-grilling steak
T-bone grilling steak
Strip loin grilling steak
Sirloin loin grilling steak
Marinating steak
Sirloin tip marinating steak
Inside round marinating steak
Outside round marinating steak
Eye of round marinating steak
Flank marinating steak
Simmering steak
Cross rib simmering steak
Blade simmering steak
Stewing beef
Stewing beef
Simmering short ribs
Quick serve beef
Stir-fry strips
Kabobs
Fast fry steaks
Rouladen
New Improved Cooking Methods
Premium Oven Roast – Place fat side up on rack in roasting pan without lid. Season to taste. Insert meat thermometer into centre of roast avoiding fat or bone.
| | | |
| --- | --- | --- |
| Oven at 325°F (160°C) | Final Temperature | Roast Time min./ pound (500 g) |
| Rare | 140°F (60°C) | 20 |
| Medium | 160°F (70°C) | 25 |
| Well | 170°F (75°C) | 30 |
Oven Roast – Place roast, fat side up, on a rack in pan with 1/2 – 3/4 in (1-2 cm) water added. Season to taste. Place uncovered in preheated 500° F (240°C) oven. After 30 minutes, reduce to 275°F (140°C). Cook an additional 1 1/4 to 1 3/4 hours until internal temperature reaches 160°F (70°C).
Pot Roast – Season roast and brown on all sides in a lightly oiled pan. Add 1 to 2 cups (250-500 mL) liquid such as broth, wine or canned soup. Cover and simmer on stove top or in 325°F (160°C) oven until tender (about 3 hours).
Stewing Beef – Coat beef stew cubes or short ribs with a mixture of flour, salt and pepper. Brown in small amount of hot oil Add onions and other seasonings as desired. Add 4 cups/lb (1 L/500 g) liquid such as water, wine, broth or tomato juice to cover beef. Simmer, covered on stove or in 325°F (160°C) oven for at least 11/2 hours. Add cut-up vegetables (potatoes, carrots, mushrooms) and cook for 1/2 hour more.
Grilling Steak – Season with pepper but do not salt. Grill or broil using medium high heat, turning only once or twice with tongs
Cooking Times

Meat Thickness

minutes per side

rare

medium

well

1/2-3/4 in (1 cm)

3-5

5-7

7-9

1 in (2.5 cm)

5-7

7-9

9-11
Marinating Steak – Pierce steak several times. Marinate in 1 cup (250 mL) acidic liquid plus seasonings for 12-24 hours in refrigerator or 20-30 minutes if using instant marinades. Grill or broil, turning once or twice.
Cooking Times

Meat Thickness

minutes per side

rare

medium

1/2 – 3/4 in (1 cm)

3-5

5-7

1 in (2.5 cm)

5-7

7
Simmering Steak – Season and brown on all sides in a lightly oiled pan. Add onion, garlic, etc. if desired. Add 1/2 – 1 cup (125-250 mL) liquid such as broth, juice, wine, canned tomatoes or soup. Cover and simmer on stove or in 325 F (160°C) oven until tender (75 minutes).
Quick Serve Beef – Season beef with pepper and other spices to taste. Do not salt. Cook in lightly oiled pan/ wok over medium heat 2-3 minutes for beef strips or 2-4 minutes for steaks. Do not overcook. Remove beef from pan. Serve steak with sauce if desired. For stir-fry, cook assorted vegetables 3-5 minutes. Add 1/2 – 1 cup (125-250 mL) sauce. Reheat beef strips and vegetables for 2 minutes before serving.
Fat Content of Ground Beef
Agriculture Canada sets these regulations for ground beef products.
| | |
| --- | --- |
| Regular ground beef | not more than 30% fat |
| Medium ground beef | not more than 23% fat |
| Lean ground beef | not more than 17% fat |
| Extra lean ground beef | not more than 10% fat |
| Patties – pure or 100% beef | not regulated unless contents are labeled; may contain seasonings |
None of the above contain added water, binders or fillers. The main ingredient is ground muscle meat. In some cases heart and tongue may be optional.
Burgers, meatballs, steakettes, ground beef cutlets may have seasonings, fillers, binders, and water added. The fat content may vary. It depends on the protein content. When cooked they must have 13.5% meat protein.
Caesar Style Beef Salad
Using up leftover roast beef is often a challenge. This recipe quickly converts frozen leftovers to a tasty "planned overs" which are great served with toasted garlic bread. Either use commercial dressing or make your own
| | | |
| --- | --- | --- |
| 1 | head romaine lettuce | 1 |
| 2-2 1/2 cups | cold roast beef (cut in julienne strips) | (500-625 mL) |
| 1 | regular or 1/2 English cucumber | 1 |
| 1/4 cup | parmesan cheese (grated) | (50 mL) |
| 1/2 cup | Caesar dressing | (125 mL) |
| 1/4 tsp | ground black pepper | (1 mL) |
| 2 | tomatoes | 2 |
Dressing:
| | | |
| --- | --- | --- |
| 1/2 cup | canola oil | (125 mL) |
| 1 | clove garlic | 1 |
| 3/4 tsp | salt | (3 mL) |
| 1/4 tsp | freshly ground black pepper | (1 mL) |
| 1/4 tsp | dry mustard | (1 mL) |
| 11/2 tsp | Worcestershire sauce | (7 mL) |
| 2 tbsps | Parmesan cheese | (30 mL) |
| 2 tbsps | fresh lemon juice | (30 mL) |
Combine dressing ingredients and set aside. Cut beef into julienne strips and marinate in about half the dressing while preparing remaining salad ingredients. Wash and spin dry romaine. Tear into bite size pieces and place in a large bowl. Peel cucumber and cut into 1/4 inch (.5 cm) chunks. Toss lettuce with cucumber, and Parmesan. Add remaining dressing and black pepper and toss. Garnish with tomato wedges and serve with garlic bread. Makes 4 servings.
Honey Dijon Marinated Steak
Marinating is an easy way to make a steak (inside round, eye of the round, sirloin tip or flank steak) more tender. The marinade can be as simple as wine and herbs, soy sauce and vinegar or pineapple juice. The key is the acidic compound found in wine, vinegar, and juices which serve as tenderizing agents. Place steak and marinade in a zip lock bag, pour in the marinade, seal and refrigerate 12 hours or longer. If you need something faster, instant marinades are available that tenderize in 30 minutes. Just add water. You'll likely find them in the meat or spice department. In this case natural enzymes found in pineapple, papaya and figs trigger the tenderizing process.
| | | |
| --- | --- | --- |
| 1 1/2 lbs. | marinating steak (inside round, outside round, eye of round, sirloin tip, flank steak) cut 1 inch (2.5 cm) thick | (750 g) |
| 1/4 cup | red wine vinegar | (50 mL) |
| 2 tbsps | canola oil | (30 mL) |
| 2 tbsps | honey | (30 mL) |
| 1 tbsp | Dijon mustard | (15 mL) |
| 2 | cloves garlic, finely minced | 2 |
| 1 | orange, juice and grated peel | 1 |
Pierce steak with a fork and place in plastic bag or shallow baking dish. Combine remaining ingredients and whisk until blended. Pour over meat. Marinate at least 12 hours or overnight in refrigerator, turning several times. Remove from marinade and grill on preheated grill or barbecue over medium high heat, 5 to 7 minutes per side for rare, 7 to 9 minutes for medium. These cuts should not be cooked longer than medium or they will be dry and tough. To serve, carve in thin slices on the diagonal across the grain.
Grilled Herb Mustard Steaks
This mustard glaze enhances the barbecue flavour. Be sure to choose a cut labelled grilling steak (strip loin, rib eye, and sirloin steak). It takes just 20 minutes to prepare and cook.
| | | |
| --- | --- | --- |
| 1 lb | grilling steak (strip loin, rib eye, sirloin) | (500 g) |
| 2 | cloves garlic, crushed | 2 |
| 2 tsps | water | (10 mL) |
| 2 tbsps | Dijon mustard | (30 mL) |
| 1 tsp | basil | (5 mL) |
| 1/2 tsp | each, pepper and thyme leaves | (5 mL) |
Trim steaks. In a small glass measuring bowl, combine garlic and water. Microwave on High for 30 seconds. Stir in remaining ingredients. Spread mixture on both sides of steaks. Grill steaks on preheated barbecue over medium high heat for 5 to 7 minutes per side for rare, 7 to 9 minutes per side for medium and 9 to 11 minutes per side for well done. To serve, slice steaks across the grain into thick slices. Makes 4 servings.
Source: Beef Information Centre
By Liz Delahey