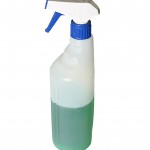 Inexpensive "old-fashioned" substances can easily replace more toxic cleaners and chemicals around the house.
Safety First
Many people prefer vinegar to ammonia due to the strong fumes. Be sure never to combine bleach with any product. Sometimes people may look at a bottle of bleach and wonder, 'Why shouldn't this be mixed with ammonia?' The answer? Huge danger! Chlorine gas was used as a chemical weapon during World War I and later by Nazi Germany in World War II. Bleach and ammonia create chloramine gas, a deadly combination!
Remember, even nontoxic cleaners are not for human consumption. Keep out of reach of children.
Five Safer Substances
There are five substances commonly used in environment friendly cleaning. All are safer than their manufactured chemical counterparts.
Vinegar removes mildew, stains, and wax buildup. Use it to clean coffeepots, glass, paintbrushes, grout, windows and fireplaces.
Pure Soap cleans everything from dishes to cars.
Baking Soda the all-around champion. Baking soda cleans, deodorizes, scours, polishes, removes stains, and softens fabrics. Use it on plastic, vinyl, carpeting, and upholstery, on silver and stainless steel, inside refrigerators or down drains.
Borax cleans wallpaper, painted walls, and floors. It deodorizes, removes stains and boosts the cleaning power of your detergents.
Washing Soda cleans clothing and softens water. But it is moderately toxic. Wear gloves and use it in well-ventilated areas to avoid irritation of mucous membranes.
Environmentally Friendly Cleaning Alternatives:
Heavy Duty Polish for Floors and Furniture
| | | |
| --- | --- | --- |
| 15 mL | carnauba wax | 1 tbsp |
| 500 mL | mineral oil | 2 cups |
Heat in a double boiler, cool, then apply with a soft rag. Carnauba wax can be bought at auto-supply stores or hobby shops.
Furniture Polish #1
This is for furniture that's been varnished, lacquered, or shellacked.
| | | |
| --- | --- | --- |
| 25 mL | olive oil | 2 tbsp |
| 15 mL | white vinegar | 1 tbsp |
| 1 L | warm water | 4 cups |
Mix ingredients and put into a spray bottle. The polish works best when warm; heat by letting the bottle sit in a pan of hot water. After applying, rub dry with a cloth.
Furniture Polish #2
Use this on furniture that doesn?t have a protective hard coating.
| | | |
| --- | --- | --- |
| 15 mL | lemon oil | 1 tbsp |
| 1 L | mineral oil | 4 cups |
Put in spray bottle. Spray on, rub in, then wipe clean.
Descalers
Removing the scale that accumulates in your kettle or iron will increase its energy efficiency by helping it to work faster. Use a solution of one part white vinegar, two parts water. Pour some into your electric kettle and let it boil; rinse the kettle thoroughly. For your iron, pour in some of the solution and let it stand for 30 minutes; rinse several times.
Dish Detergent
| | | |
| --- | --- | --- |
| 500 mL | grated hard bar soap or soap flakes | 2 cups |
| 4 L | water | 16 cups |
Rub salad oil on grater before grating bar soap; it will be easier to clean.
Place soap in a pot, add water and stir. Heat over medium heat until the mixture boils, stirring occasionally. Remove from heat and let cool. Store in tightly covered container. (Not for use in automatic dishwashers.)
A homemade substitute for automatic dishwasher detergent can be made using equal parts borax and washing soda and mixing it with a purchased cleaner. Increase the amount of soda if water is hard.
Safe Bleach
1 part hydrogen peroxide
8 parts water
Soak garments in this solution, then rinse.
Fabric Softener
Adding 50 mL (3 tbsp) baking soda to the wash cycle, or 50 mL (3 tbsp) vinegar to the rinse cycle, will soften your laundry just as well as the costly commercial liquids.
Soak lightweight cloth in diluted laundry softener and place in dryer with wet clothes.
The cloth can be used over and over; softener is also conserved.
Drain Cleaner – Non-Caustic
| | | |
| --- | --- | --- |
| 250 mL | baking soda | 1 cup |
| 250 mL | salt | 1 cup |
| 125 mL | white vinegar | 1/2 cup |
| 1 | kettle boiling water | 1 |
Pour baking soda, salt and vinegar down drain and leave for 15 minutes. Pour on boiling water.
To keep your drains clear pour about 50 mL (3 tbsp) salt down the drain, followed by a kettle of water, once or twice a week. Instead of the salt, you could use 50 mL (3 tbsp) washing soda, or 50 mL (3 tbsp) baking soda plus 50 mL (3 tbsp) vinegar.
Laundry Powder
| | | |
| --- | --- | --- |
| 250 mL | pure soap flakes or powder | 1 cup |
| 25 – 50 mL | washing soda | 2 – 3 tbsp |
Scouring Powder
| | | |
| --- | --- | --- |
| 50 mL | pure soap flakes or powder | 3 tbsp |
| 10 mL | borax | 2 tsp |
| 375 mL | boiling water | 1 1/2 cups |
| 50 mL | whiting (a chalk powder) | 3 tbsp |
Dissolve the borax and soap in the boiling water. Cool to room temperature, add whiting, and pour into a sealed plastic or glass container. Shake well before using. If you want it to be more abrasive, add more whiting, 3 tsp (15 mL) at a time until it's right for you.
Toilet Bowl Cleaners
A safe all purpose cleaner, used regularly, will keep the toilet bowl clean.
To remove stains, mix borax and lemon juice to a paste. Wet the sides of the toilet bowl, rub on the paste, and let it stand for about two hours before scrubbing it off.
Rug and Upholstery Cleaner
Greasy soil and odours can be removed from carpets by sprinkling then generously with a mixture of two parts cornmeal and one part borax. Leave for an hour, then vacuum thoroughly. For spills, sponge the rug promptly with a mixture of vinegar and water. Then sponge with clean water, and pat dry.
Source: Canadian Green Consumer Guide and email from Reena Nerbas, authof ofHousehold Solutions 1 with Substitutions and Housefold Solutions 2 with Kitchen Secrets
For more "green" tips, see the Environment Canada website at:
/www.ec.gc.ca/envhome.html.