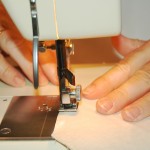 Fleece is an easy care fun fabric that fits into our busy modern lifestyle. Beginning sewers will love working with fleece as sewing imperfections become hidden in the fabric while more experienced sewers will enjoy exercising their creativity with appliques and new designs. Fleece garments are usually loose fitting so fitting is not a challenge.
Here is some information to help you make the most of working with fleece.
What is fleece?
Traditionally the term "fleece" referred to the coat of wool covering a sheep or similar animal. Now it most commonly means a man-made polyester or acrylic fabric with a soft, pile. Manufactured fleece is a fabric with one or both sides brushed or "fleeced". Since fleece is a knitted fabric, it has "give" to it. The brushed or fleeced side may be plain, sculptured, embellished or made to look like shearling.
What qualities does fleece have?
Fleece is
Light weight
Breathable
Insulating
Durable
Quick drying
Will wind penetrate fleece?
Yes, wind will blow through fleece so choose a windproof fabric for an outer jacket.
What do I look for when selecting top quality fleece fabric?
Look for a thicker feeling fabric. Look closely at the fibres. They should stand up from the knit core of the fabric.
Will fleece pill?
Yes, some fleece will pill. Manufacturers are developing more and more fleece fabrics that do not pill. It is hard to predict in the store if the fabric will be the pill type. Try rigorously rubbing the fabric together. If the fabric looks as if it is forming balls, it will probably pill. Polyester likes itself and so fibres will cling together when rubbed. Fleece will form static electricity and that will pull lint to it.
Is fleece easy to sew?
Yes, fleece is easy to sew. It does not fray so it is not necessary to the finish seams. In fact, a cut edge can be left as is without applying facing. Blankets can be made by cutting to the desired size and "Presto" the blanket is finished. Vest armholes can be left as cut or else a binding can be applied for interest rather than function.
Is there a wrong and right side to fleece?
Yes, there is. Gently stretch the edge of the fabric that has been cut across from selvage to selvage. The fabric will curl to the wrong side.
Does fleece have a nap or one-way direction?
Yes, it does. To determine the direction, try the "stroking the cat" technique. When rubbing your hand over the fabric, the "fur" is going downward. The fabric will wear better and the colour will look more even if the nap goes downward. If you have a hard time telling, lay all the pattern pieces in one direction.
If the fabric has a pattern, be sure to check the fabric from a distance. The pattern may be a one-direction pattern. Some of one-direction patterns are hard to detect when viewing them up close.
Should I follow the grain line when sewing with fleece?
When sewing a garment it is wisest to follow the grain line. The fabric does give some leeway. When using the fabric for appliqué fabric the grain line is less important.
Should I pre-wash the fleece?
Fleece does not shrink, fade or run so there is no need to prewash the fabric. Prewashing may give a hint as to whether the fabric pills or not.
Should I iron fleece?
Fleece has a very low melting point so do not iron or press fleece. One would hate to have the shape of the iron become a permanent part of the garment! Also, the fleece should be fluffy and ironing may pack it down and lessen the insulating qualities.
What are some hints for cutting out fleece?
Lay the pattern one way
If the fabric is a one-sided fleece, lay the pattern on the knit back
If the fabric is especially thick cut though a single layer. Be sure to remember to cut the second layer so that it is the mirror image of the first.
A rotary cutter, exacto knife or razor blade may work best for cutting thick fleece.
Keep the vacuum cleaner handy. Working or sewing with fleece can provide ample opportunity to use the vacuum cleaner. After sewing is finished vacuuming the seams may help get rid of lint.
What are some hints for sewing with fleece?
Use your regular sewing machine needle. If the fleece is especially heavy you might select a heavier needle.
Choose a quality polyester thread.
Select a straight sew or a very narrow bite zigzag stitch.
Stitch length works best if it is almost basting length.
Bulk can be a challenge. If the presser foot pushes ahead the top layer of fabric, try using a seam ripper or turner to press the fabric down in front of the presser foot. This can solve the "hump" problem. Since fleece does not fray, seams can be trimmed severely.
If the pile is stuck in the seam, try using an old toothbrush to gently free the pile from the seam.
Use non-fusible interfacing to give strength to closure areas around zippers, buttons, buttonholes and snaps.
What are some care hints for fleece garments?
Before washing a fleece garment, do buttons and zippers up and turn garment inside out.
Use cold to lukewarm water when washing garments.
Do not wash fleece garments with any linty garments such as socks and towels. In fact, if possible, wash fleece garments separately.
Hang garments to dry. The dryer may be too hot and will also encourage the formation of static electricity.
Fleece lends itself to many creative ideas so what to do with leftover scraps is rarely a problem. For more information and/or hints on creative sewing check your fabric store for references such as:
Adventures with Polar Fleece — Nancy Cornwall
More Polar Fleece Adventures — Nancy Cornwall
Sew the New Fleece — Rochelle Harper
By Millie Reynolds, Home Economist