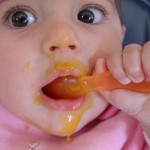 Preparing your own baby food requires a little planning but can be fun and easy to do. There are many reasons to make your own baby food and by following some simple guidelines you can be well on your way!
Homemade baby food gives you greater control over the amount of salt, sugar, starch and fat in your baby's food. It also gives your baby a chance to try a greater variety of food flavours and textures. This helps to better prepare them for table food in the future. Another important advantage is the reduced cost of home prepared compared to commercially prepared baby food.
The equipment you need can be as basic as a fork, grater, sieve, baby food mill/grinder, electric hand blender or food processor. Choose cooking methods like microwaving, baking, steaming, boiling and broiling. These help keep the nutrients in the food, especially when done for a short period of time and with as little liquid as possible. Keep in mind that babies will start out eating pureed foods (using a food mill or processor). As they are ready, babies progress to semi solid, then slightly lumpy, lumpy and finally pieces of soft table food.
Ensure that your baby is getting the best and safest food. Use proper sanitation, storage, thawing and reheating methods. First, be sure to wash your hands well before preparing food and feeding your baby. After each food preparation, wash all equipment and utensils with hot soapy water and air-dry. Home prepared baby food should be stored in tightly covered containers in the coldest part of your refrigerator for no longer than three days. Freeze any extras in portion sizes and place in labeled dated freezer bags. Here are two ideas for freezing in portion sizes:
Food Cube Method – Pour the prepared food in ice-cube trays. Each cube is approximately 2 oz (60 mL) and is a good serving size. Cover the tray with plastic wrap and place in the coldest part of the freezer.
"Plop" Method – Plop spoonfuls of food onto a cookie sheet. The size of each "plop" should be the size that you baby is eating at each meal. Freeze in the coldest part of the freezer.
Once frozen, transfer the food cubes or "plops" into freezer bags. At mealtime, parents can take the amount of food needed from the freezer bags and safely warm in a double boiler for a few minutes or in a microwave on medium-high for about 45 seconds. Always stir and test food temperature before feeding baby.
Homemade purees have freezer storage times. Vegetable and fruit purees last for 6-8 months, cooked meat, poultry and fish purees last 10 weeks, mixed vegetable and meat purees last 10 weeks and purees containing milk last 4-6 weeks.
For further information about making your own baby food, contact your local public health nutritionist.
WRITTEN BY THE PUBLIC HEALTH NUTRITIONISTS OF SASKATCHEWAN
Originator: Alison Amundrud, Kelsey Trail Health Region
References:
Krystyn Lewicki, "The ABC's of Baby Food Making Baby Food From Scratch", Food Share Metro Toronto, 1998.
Ellyn Satter, " Ellyn Satter's Feeding With Love and Good Sense – Video and Teacher's Guide", Ellyn Satter Associates, 1995.
Saskatchewan Health, "Home Made Baby Food- You Can Do it! We'll Tell You How!".