We've got a special feature for you today on the Home & Family Blog. Starting this month we will be taking some time to introduce and chat with some of the Manitoba Association of Home Economists (MAHE) board members  about their roles within MAHE and beyond!
This series is geared towards individuals who are currently working through the IPHE program, new PHEc's, or those who might be considering becoming a Professional Home Economist. Once a month we will be interviewing one of our extremely talented board members so that you have an opportunity to get to know them and the organization a bit better.
Our board members have a strong passion for the work that MAHE does and we hope this series will inspire you to join the organization or ignite your passion for helping MAHE spread the word about the benefits of Human Ecology and Home Economics!
This month we are featuring Meghan Rafferty, Director of Public Relations.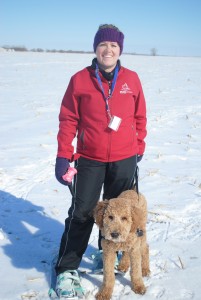 Who are you, and what do you do?
My name is Meghan Rafferty and during the day I am a Policy Analyst for Family Services. Currently I'm working as a project manager for a new training program for all new staff to be oriented to policy application. I also have my own business as a provincial clinician and coach for Skate Manitoba-I coach at my club in Niverville and I teach learn to skate, figure skating, power skating, synchronized skating and adult programs!
How long have you been a MAHE member?
I have been a MAHE member since 2008-I think I finished my IPHE in 2009 to be an active practising member–and officially became a PHEc with two friends at our provincial conference in Dauphin that year! I have been the Director of Public Relations since 2013 and I have represented MAHE on the Provincial Council of Women of Manitoba since 2010.
What do you enjoy most about being a MAHE member?
I am really passionate and proud of what Human Ecology/Home Ec is all about. I love working with MAHE so I can advance our profile and make sure everyone knows about the work we do, the holistic approach we take and the credibility we have! I love telling people about the work we do!
What piece of advice could you offer new PHEc's or IPHE's?
I would tell them to get involved! MAHE is an organization FULL of inspirational members. I've learned a lot and built some great relationships. I believe it is everyone's responsibility to help MAHE and volunteer where you can. It has been very rewarding and exciting to be a part of MAHE as a board member.
Thanks Meghan for being the first MAHE board member to be featured on the Home & Family Blog. Look forward to hearing from our next featured board member!