By Symone Moodoo, RD
Eating healthy can be quite costly but especially during these COVID-19 times. With lower income, healthy eating may seem unrealistic.
Luckily, there are a handful of tips and strategies you can implement today that can make healthy eating that much more attainable.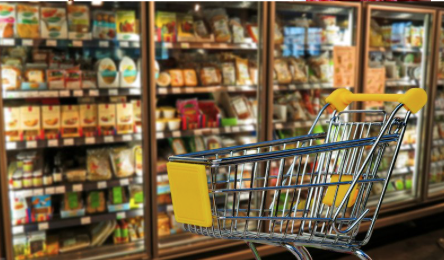 Shop smart
Look through your stock (pantry, fridge, freezer etc.) and create a grocery list accordingly.
By seeing what you already have on hand and identifying items that need to be restocked and then placing these items on a list, you are eliminating the chances of overbuying and spending money on items you already have.
Buy in-season produce (and choose frozen options when not in season)
Produce that are in-season is always going to be less expensive than fresh produce that are not in-season.
Vegetables and fruits found in the freezer section of your local grocery store have been picked when ripe and then flash frozen to lock in all of their nutrients allowing for healthy options year-round. An added plus, frozen produce tend to be lower in price making this option perfect for those who want to save while grocery shopping.
Price match
Almost every store has this policy emplaced. It allows for convenience and helps you save money by getting your desired item(s) at the lowest price available.
How to price match: Read through flyers. Search for which store has the item you are looking for the cheapest and make sure to bring that flyer in with you to your local grocery store. If you do not have a physical copy, apps such as rebee and flipp are great alternatives as they encompass many local grocery store flyers/deals in your area. Once at the checkout, make sure to present the flyer containing the price of the desired item to the cashier so that they can enter the sale price.
Use coupons
Some brands have mailing lists (sign-up is free) where they send coupons to their members monthly.
In addition, there are usually coupons either at the front of the store or located throughout the store amongst products that you can take and use while checking out.
Buy in bulk and freeze for later
Depending on the item, buying in bulk is sometimes the more budget friendly option. Although it may be a bit higher in price than single or regular sized items, in the long run you end up saving money.
Items to buy in bulk include:
bread and cheese – these items freeze well
rice, pasta and flour – items are shelf stable and able to last a long time
canned fish and beans – like rice, these items have a longer shelf life and are able to last longer in your pantry
fresh meats and fish – when on sale, take advantage of the prices and buy in bulk and freeze for later use. (Note: meat including whole poultry and pork can stay up to 8-12 months in the freezer. Fresh fish such as salmon can last up to 2 months in the freezer).
https://www.canada.ca/en/health-canada/services/general-food-safety-tips/safe-food-storage.html#a5
Symone Moodoo is a Registered Dietitian at Save-on-Foods in Manitoba and is a sub-contractor for the Farm to School Manitoba program.