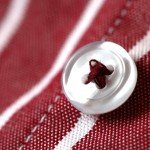 There are a number of interfacings, underlinings and linings on the market that can help give the garment you sew a more professional appearance. Knowing what to use and how to handle it is one of the keys to successful sewing.
Interfacing gives shape and support in areas such as a jacket front, side front, facing or an upper or lower collar. It is available as a sew-in fabric or a fusible fabric.
Underlining can be fabric, fusible or sew-in interfacing. The underlining is cut exactly the same size as the pattern piece. If fabric is used as an underlining it is basted to the wrong side of the fashion fabric. If interfacing is used it will be fused directly to the fabric and extended into the seam allowance. This technique gives the outer fabric more shape and support.
Interlining is a thermal layer of fabric or insulation such as Thinsulate used in coats and jackets. The interlining is sewn in between the fashion fabric and the lining.
Lining is the material that covers the inner construction of the garment. It also helps maintain the garment's shape, reduces wrinkles and prevents clinging. Lining adds wealth to any garment.
Choose the right interfacing for the job
Interfacings are designed for specific purposes.  Some are sew in and some are fusible. They may be preshrunk or require preshrinking at home. Knowing what to buy and how to handle the material can save both time and money.
How to shrink interfacings
Some interfacings are labelled preshrunk. All others should be preshrunk by soaking in hot water for 15 minutes, drain the water off and lay on a flat surface to dry.
How to fuse interfacings
Lower the ironing board to achieve maximum pressure. Put iron on steam setting and apply pressure for 8 to 10 seconds.
Ron Collins is a Saskatoon designer and sewing expert who travels across North America giving presentations at shows. He shared these tips with University of Saskatchewan home economics education students.
Updated September 2020