By Tressa Alexiuk, PHEc
While those not dealing with the very worst of the global COVID-19 outbreak are fortunate, everyone is affected to some degree by the stresses of adaptation and uncertainty. With school classes in Manitoba and many other places being suspended indefinitely, families are forced to adjust to new work and school routines. For adults in the home, that might mean struggling to find the time and space to work effectively. For children, it might mean extra spare time as schoolwork is completed more quickly and extra-curricular activities are on pause. For my family, it has meant brainstorming ways to share space, break up monotony, and ensure everyone is set up to accomplish their tasks for the day.
What started as an experiment to share the extra load of household work in my home has turned into a routine with surprising success. I tasked my teen and tween with preparing lunch for the gang once a week. There aren't many rules. They are allowed to choose the meal on their own or ask for ideas. They can prepare foods within their own comfort level and palate. There is freedom to prepare preferred foods without judgement.
We have been eating simple and satisfying meals like pasta with white sauce and green beans, apple pancakes, and pesto quesadillas with a green salad. One day we were treated with sandwiches, fruit, and pickles shared on a blanket picnic-style on the living room floor!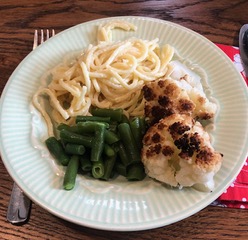 While family life never stays the same for long, this lunch routine is a welcome winner for now. It allows me a few more minutes in the day for my work. For the kids, there is obvious pride in their creations. They are learning to be flexible cooks by talking through substitutions in recipes and thinking about their own preferences for delicious additions. And so far, no complaints by others about the meal served.
Whether you are finding this at a time with added responsibilities, or in a more settled time with regular work and home tasks, your kids and teens are valuable in the kitchen and they benefit immensely by improving their food skills.

Ready to get your kids more involved in the kitchen, but not sure where to start? There are endless recipes and videos on social media and through websites. Here are a few resources using common ingredients for all skill levels to help get the ideas flowing:
• Good and Cheap by Leanne Brown
https://books.leannebrown.com/good-and-cheap.pdf
Check out Rainbow Rice, Taco Salad, and Tomato Scrambled Eggs
• Canada's Food Guide Recipes
https://www.canada.ca/en/health-canada/services/canada-food-guide/tips-healthy-eating/meal-planning-cooking-healthy-choices/recipes.html
Try Mujadarrah, Broccoli Cheese Toast, Coleslaw, or Shakshouka
Not sure this will work for your family? Create your own experiment! Younger children might be in charge of an after-school snack to mark the end of the at-home learning day. Kitchen-cupboard Trail Mix or Nut/seed Butter Smeared Banana Slices anyone? Kids of any age can take turns setting the table – challenge them to brighten it up with decorations! Check in with your children for their ideas to get involved and keep trying until you find something that works.
Submitted by Tressa Alexiuk, PHEc. Tressa is a Professional Home Economist. She has worked and volunteered in various community food skills and education programs. Currently, Tressa is a graduate student in Human Nutritional Sciences with a focus on youth food and nutrition security.
Updated October 2020